A giant redwood forest in Sonoma County that was on the verge of being divvied up and plowed over into a patchwork of vineyards has been preserved by a public-private partnership that engineered what is being touted as the largest land conservation deal in California history.
June, 2013, SF Chronicle
Sonoma County redwood forest spared from conversion into vineyards


Opponents organized under the banner Friends of the Gualala River mounted a campaign against the CalPERS-funded company that included street theater tactics and an online petition signed by 90,000 critics of the development project.
June, 2013, LA Times
Sonoma Deal Aims to Combine Logging and Preservation


Can you preserve a forest by logging it? A land conservation group thinks so. The Conservation Fund announced Monday that, along with some partners, it had acquired 19,645 acres of forest in Sonoma County. The land had been slated for planting vineyards.
June, 2013, KQED
Preservation Ranch Earns Its Name


Opponents organized under the banner Friends of the Gualala River mounted a campaign against the CalPERS-funded company that included street theater tactics and an online petition signed by 90,000 critics of the development project.
June, 2013, The Conservation Fund
Preservation Ranch officially preserved


Nearly 20,000 acres of remote forest once targeted for vineyard development in remote northwest Sonoma County will be set aside as timberland and wildlife habitat under a landmark conservation deal that closed Friday.  May 31, 2013, Santa Rosa Press Democrat
Preservation Ranch: Big conservation, thanks to carbon credits


On May 31, the ink will dry on the largest land conservation deal in Sonoma County history: $24.5 million to permanently protect the 19,000-acre Preservation Ranch from a long-threatened vineyard and estate conversion process.  Bay Nature, May, 2013

Who Saved Preservation Ranch?
"I sincerely hope that the mainstream press and officials at future dedication ceremonies recognize… Friends of the Gualala River for the sacrifices they made against enormous odds. Lest we are encouraged or allowed to forget, a few people are what it takes to make a difference."
– Larry Hanson, Sonoma County Gazette, May, 2013

Preservation Ranch Acquisition
Coastal Conservancy staff recommend that the Conservancy authorize the disbursement of up to $10,000,000 to The Conservation Fund to acquire the property known as "Preservation Ranch."
"A Sonoma forest is saved"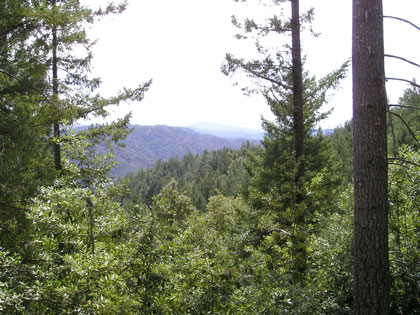 Activists, led in recent years by the Annapolis-based Friends of the Gualala River… have been mobilizing voters for over 10 years to oppose Preservation Ranch in its various forms. March, 2013, Vibrant Bay Area
The Conservation Fund reaches agreement to purchase Preservation Ranch by May 31


The Conservation Fund plans to buy 20,000 acres of forest land in northwest Sonoma County, ending the "Preservation" Ranch forest-to-vineyards conversion project funded by the state employee pension fund, CalPERS.
---
Summary
The so-called "Preservation" Ranch was a 19,300 acre development in the heart of the Gualala River watershed owned by the California Public Employees' Retirement System (CalPERS) and managed by Premier Pacific Vineyards (PPV).
PPV planned to "preserve" the land by destroying 1,600+ acres of coastal redwood forest and converting it into vineyards. Those vineyards – and the road infrastructure needed to service them – would have fragmented the remaining forest land, reducing its value as habitat for the creatures that depend on the forest for survival.
Water usage for irrigation, frost protection and supplying resident and migrant workers, filling of seasonal creeks and building of dozens of reservoirs would have had significant adverse impacts on down-stream water users – including fish.
Sonoma County was preparing an Environmental Impact Report (EIR) to assess the project's potential to result in adverse impacts and to consider feasible mitigations and alternatives.
Comment letters on EIR scope, from:
Community Clean Water Institute
To aid public review, Friends of the Gualala River (FoGR) provided excerpted highlights, or "tabs," of important items in the Initial Study that could otherwise be buried and obscured. These tabs are taken straight from the Initial Study with page references or verbatim quotations — not our interpretations.
FoGR's own independent critical questions about the project – an important foundation for scoping – are an open and growing list, expanding as we consult with experts and non-technical residents alike. Our updated question and concern list is presented separate from the Initial Study tabs.
The Sonoma County Permit and Resource Management Department (PRMD) prepared an Initial Study of the Preservation Ranch Project to identify potential impacts and issues that should be assessed more thoroughly in the EIR.
Sonoma County's Permit and Resource Management Department (PRMD) received an enormous stack of paperwork from PPV. The documents are available at the PRMD office, Santa Rosa Public Library, Horicon Elementary School in Annapolis, CalFire office at The Sea Ranch and on the PRMD website; see: PRMD: Preservation Ranch Project Proposal.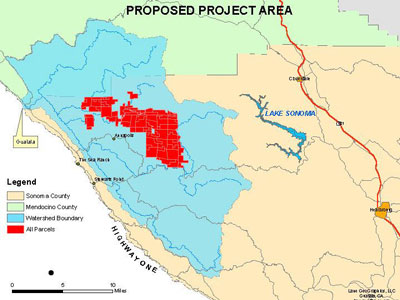 Preservation Ranch,
in the heart of the Gualala River watershed
---
"The heart of the proposed mitigation concept for Preservation Ranch is forest restoration as a means of compensating for the loss of forest to vineyards. . . The nature of mitigation and restoration, particularly of coastal forests in this region, should be given a hard look before they are accepted as a routine permit process."
– Retail restoration and forest mitigation:
Conservation during the new "Grape Rush"
by Peter R. Baye, Ph.D.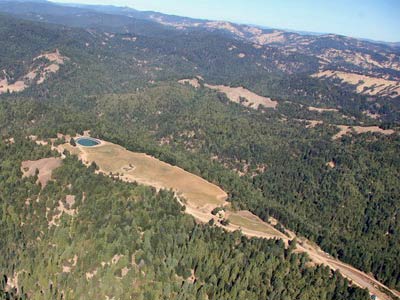 Evans Ridge vineyard development on 'Preservation' Ranch
from a series of aerial photographs by Jamie Hall, October 2007
---
"Preservation Ranch is the latest in a long series of environmental assaults on western Sonoma County forests. After years of environmentally destructive logging, Sonoma County forests now face the additional threat of permanent development and conversion to vineyards. Numerous western Sonoma County forest conversions have been approved in the past, but the Preservation Ranch proposal is more than twice as large as all previous proposed and approved conversions combined since 1989."
Worse than a Clearcut
Video produced by the Sierra Club Redwood Chapter.
More information


CEQA process chart