"Vineyard development is a real threat"
to the Gualala River
"Makes a clearcut look like the Garden of Eden"
for steelhead
Craig Bell, Garcia River Watershed Coordinator, gave a talk on Garcia River restoration efforts on Monday, May 18, 2009.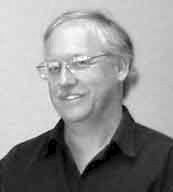 Mr. Bell, a fisherman and river restorationist who has been involved with Garcia River restoration efforts since the 1980s, responded to a question from the audience about the effects of vineyard development on the Gualala River. Bell offered candid, colorful and thought-provoking views on Preservation Ranch and the impacts of vineyards on flows and fish in other North Coast rivers.
"Vineyard development is a real threat" to recovery of Gualala steelhead, in his opinion, and is "the last thing I'd want in my watershed." He argued that vineyard threats are cumulative impacts, not due to single vineyards in isolation, but the aggregate effect of many of them in the same watershed.
"Three aspirin will cure a headache, but one hundred can kill you," he offered as an analogy of the difference between a few vineyards and a watershed full of them, as they affect fish and flows.
Among the multiple types of impacts he identified as cumulative threats were toxic soil "sterilants" like methyl bromide (a pesticide that kills all soil life, used during vineyard conversions), pesticide use, excessive reservoir capture of runoff, impacts on rain infiltration through soil, numerous reservoirs in addition to hundreds of unpermitted reservoirs, stream diversions, well pumping, and hundreds of miles of wildlife fencing.
Bell was especially concerned about well pumping and diversions for frost protection of vineyards in spring, when drawdown of river pools can strand "redds" – breeding sites of steelhead. He noted with concern that long reaches of the Wheatfield Fork of the Gualala River went dry in 2008 for the first time in memory.
Bell noted that promises of "fish-friendly farming" aren't always met or enforced. He observed that one of the "Fish Friendly Farming" certified vineyards pumped for frost protection and caused a kill of salmonids on the Russian River in spring 2008.
Preservation Ranch was also the object of Bell's critical take on excessive vineyard expansion. "If Preservation Ranch were proposed in the Garcia, there would be civil disobedience," he quipped. He asked the audience to question whether the mega-vineyard conversion of Preservation Ranch (nearly 2,000 acres of vineyard distributed through over 19,000 acres in the heart of the Gualala River watershed) would be the last one.
It is a challenge for resource agencies and elected officials to stand up to the powerful wine industry and enforce existing legal protection of fish and flows, he argued. He asked, "Will they have the political courage" to do so?, he asked. "We'll see."
Mr. Bell is the past President of the statewide Salmonid Restoration Federation, Chair of the Mendocino County Fish and Game Commission, appointed by the Director of Fish and Game to the DFG Coho Recovery Team, member of the Citizen's Advisory Committee on Salmon and Steelhead to the California Legislature, Mentor – AmeriCorps Program, consultant to the Conservation Fund and Pacific Watershed Associates, former logger, commercial salmon fisherman and a local steelhead fishing guide for over twenty years.
---
Home | About FoGR | Get Involved | Photo Tour

River Facts | Forestry | Vineyards | Water Export