Preservation Ranch:
Big conservation,
thanks to carbon credits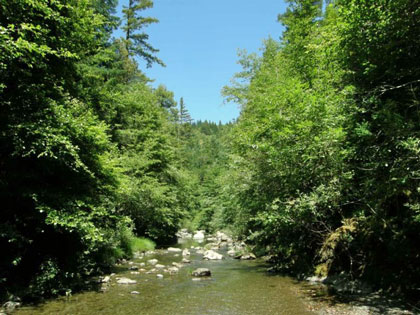 [excerpt:]
On May 31, the ink will dry on the largest land conservation deal in Sonoma County history: $24.5 million to permanently protect the 19,000-acre Preservation Ranch from a long-threatened vineyard and estate conversion process.
That sounds big, and it is, but it's actually just one part of a vast expanse of 58,000 acres of contiguous preserved land encompassing huge parts of both the Gualala and Garcia River watersheds.
These forestlands, once owned by a timber company and later threatened with conversion to vineyards and estate homes, are now owned by the Conservation Fund, a Virginia-based nonprofit that specializes in preserving large parcels.
For Chris Kelly, the fund's California program director, the Preservation Ranch deal comes at the end of more than a decade of work that began when North Coast timber companies seemed likely to start selling off their lands.
"We were coming to the end of this decades long trend of depletion," Kelly says. That sounds good, but it came with a major caveat: Where timber companies had consolidated ownership of huge areas, the trend once those lands were logged out seemed to be toward ever smaller parcels. Bad as clearcutting had been, fragmentation could have been worse.
. . .
---
For additional information, see:

Preservation Ranch Acquisition
Coastal Conservancy staff recommend that the Conservancy authorize the disbursement of up to $10,000,000 to The Conservation Fund to acquire the property known as "Preservation Ranch."

$24.5 million deal to protect
20,000-acre Sonoma County forest
A national conservation group has reached an agreement to buy nearly 20,000 acres of timberland in northwestern Sonoma County, a move that derails the long-disputed, forest-to-vineyards conversion project pushed by CalPERS, the giant state workers pension fund. February 26, 2013, Santa Rosa Press Democrat
"Preservation" Ranch


The so-called "Preservation" Ranch is a 19,300 acre development in the heart of the Gualala River watershed. Premier Pacific Vineyards plans to destroy and fragment coastal redwood forest to plant grapes on the ridgetops – and call that "preservation."
Artesa Sonoma forest-to-vineyard conversion


CAL FIRE has approved the Environmental Impact Report (EIR) for Artesa Winery's controversial plan to clear-cut 154 acres of coastal redwood forest to plant a vineyard in Annapolis. The EIR claims that the project will have no significant environmental or cultural impacts.
---
Home | About FoGR | Get Involved | Photo Tour

River Facts | Forestry | Vineyards | Water Export