[excerpt:]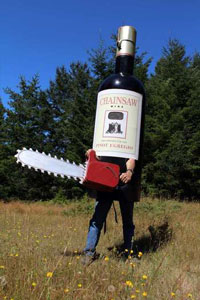 . . .
Opponents organized under the banner Friends of the Gualala River mounted a campaign against the CalPERS-funded company that included street theater tactics and an online petition signed by 90,000 critics of the development project.
Chris Poehlmann, an environmental activist and specialist in designing interactive museum exhibits, appeared at public meetings of the Sonoma County Board of Supervisors dressed as a 7-foot-tall, 40-pound wine bottle. He also carried a giant plywood replica of a chain saw.
"After all these years, our efforts have come to fruition," Poehlmann said in an interview on Tuesday. "Now, these forest lands won't be turned into mini-mansions attached to vanity vineyards polluting the watershed."
. . .
---
For additional information, see:

Preservation Ranch Acquisition
Coastal Conservancy staff recommend that the Conservancy authorize the disbursement of up to $10,000,000 to The Conservation Fund to acquire the property known as "Preservation Ranch."

$24.5 million deal to protect
20,000-acre Sonoma County forest
A national conservation group has reached an agreement to buy nearly 20,000 acres of timberland in northwestern Sonoma County, a move that derails the long-disputed, forest-to-vineyards conversion project pushed by CalPERS, the giant state workers pension fund. February 26, 2013, Santa Rosa Press Democrat
"Preservation" Ranch


The so-called "Preservation" Ranch is a 19,300 acre development in the heart of the Gualala River watershed. Premier Pacific Vineyards plans to destroy and fragment coastal redwood forest to plant grapes on the ridgetops – and call that "preservation."
Artesa Sonoma forest-to-vineyard conversion


CAL FIRE has approved the Environmental Impact Report (EIR) for Artesa Winery's controversial plan to clear-cut 154 acres of coastal redwood forest to plant a vineyard in Annapolis. The EIR claims that the project will have no significant environmental or cultural impacts.
---