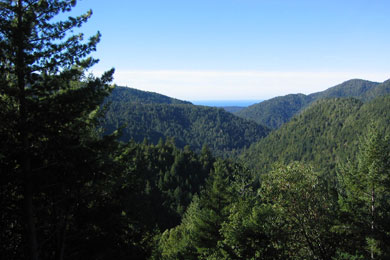 Please send a letter of support TODAY for the California Coastal Conservancy grant to purchase Preservation Ranch, using this draft letter.
The letter should be sent to Karyn Gear at the Coastal Conservancy via email (kgear@scc.ca.gov), or via US Mail to the address in the letter.
We have a once-in-a-lifetime opportunity to stop the Preservation Ranch project and protect 20 thousand acres of Sonoma County forestland as a sustainable working forest – and YOU CAN HELP.
The Conservation Fund has a contract to purchase Preservation Ranch, but it's not a done deal yet. The Coastal Conservancy will meet on April 18 to vote on a $10M grant to assist in the purchase of Preservation Ranch.
Would you please send a letter of support, and if you can, encourage others to send letters? Quantity matters in this case – the Coastal Conservancy needs to hear from the people of the State of California that we want this important conservation effort to succeed.
Thank you for your support!
PS: If the link above doesn't work for you, below is the text of the draft letter. Please feel free to write a letter in your own words if you prefer.
Send a letter
Doug Bosco
Chairman
State Coastal Conservancy
1330 Broadway, 13th floor
Oakland, CA 94612
c/o Karyn Gear kgear@scc.ca.gov

Re: Preservation Ranch

Dear Chairman Bosco:

I am writing to enthusiastically support the Coastal Conservancy staff recommendation to assist The Conservation Fund and its partners with the purchase of the Preservation Ranch to prevent a proposed subdivision and conversion of the property to vineyards and estate parcels.

If the Ranch is not purchased by The Conservation Fund, the current owners intend to go forward with their project notwithstanding widespread opposition from the local community and environmentalists around the country concerned about its impacts on water resources and wildlife, including struggling salmon and steelhead populations in the Gualala River watershed.

Preservation Ranch is comprised of a diverse mix of redwood/Douglas fir forest, Coastal oak woodland, coastal scrub and grasslands communities. It harbors more than 22 miles of important fish bearing streams in addition to numerous wetlands, seeps and springs. These habitats are home to several special-status species, as well as an array of non-listed fish and wildlife species. The initial study of the subdivision and conversion project prepared by Sonoma County's found that there will be significant environmental degradation if it goes forward, including the elimination or restriction in the range of rare and endangered plants and animals and the inducement of substantial growth associated with residential and commercial development and the extension of roads or other infrastructure.

Permanent protection of the Ranch for habitat protection & restoration and sustainable forest management will further the land use and environmental protection goals of a number of local, state and regional plans, including the Sonoma County General Plan, the North Coast Regional Water Quality Control Board Water Quality Control Plan, and the California Department of Fish and Wildlife's Recovery Strategy for Coho Salmon. We urge you to help ensure the protection of the Preservation Ranch with an affirmative vote on this critically important project. Thank you.

Sincerely,
[Your name]
---
For additional information, see:

Preservation Ranch Acquisition
Coastal Conservancy staff recommend that the Conservancy authorize the disbursement of up to $10,000,000 to The Conservation Fund to acquire the property known as "Preservation Ranch."

Letter from FoGR supporting the purchase of Preservation Ranch
Friends of the Gualala River enthusiastically supports the Coastal Conservancy staff recommendation to assist The Conservation Fund in the purchase of Preservation Ranch in western Sonoma County.

Preservation Ranch purchase
facing May 31 deadline
The effort to buy Preservation Ranch still needs money and a state board's okay before the controversial timber-to-grapes conversion proposed near the town of Annapolis is officially halted.
March 27, 2013, Sonoma West Times & News

$24.5 million deal to protect
20,000-acre Sonoma County forest
A national conservation group has reached an agreement to buy nearly 20,000 acres of timberland in northwestern Sonoma County, a move that derails the long-disputed, forest-to-vineyards conversion project pushed by CalPERS, the giant state workers pension fund. February 26, 2013, Santa Rosa Press Democrat
"Preservation" Ranch


The so-called "Preservation" Ranch is a 19,300 acre development in the heart of the Gualala River watershed. Premier Pacific Vineyards plans to destroy and fragment coastal redwood forest to plant grapes on the ridgetops – and call that "preservation."
Artesa Sonoma forest-to-vineyard conversion


CAL FIRE has approved the Environmental Impact Report (EIR) for Artesa Winery's controversial plan to clear-cut 154 acres of coastal redwood forest to plant a vineyard in Annapolis. The EIR claims that the project will have no significant environmental or cultural impacts.
---