[excerpt:]
Los árboles más altos del mundo tienen raíces poco profundas. Las secuoyas costeras (coastal redwoods) no son solitarias como los robles sino que crecen sobre una base de raíces entrelazadas en una red de apoyo mutuo. Solo llegan al cielo con el soporte de su comunidad.
Me parece imposible pasar tiempo entre las secuoyas y no enamorase. El olor a verde, musgo y niebla, un silencio noble y la sensación de los pasos sobre la tierra blanda. Es estar entre gigantes muy viejos, elegantes y sabios: pueden llegar hasta los 60-73 metros de altura, hasta 7 metros de ancho y vivir 2.000 años. Estar entre ellas es sentirse muy pequeño y insignificante.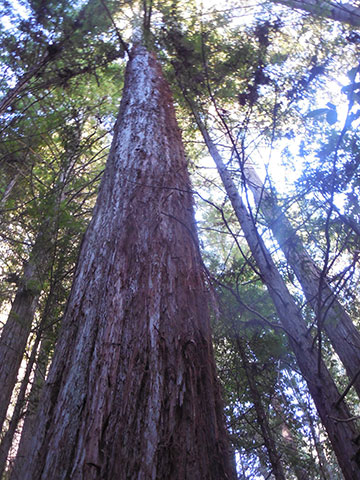 Cortesía de Amigos del Río Gualala.
Mi amor por las secuoyas es profundo y se remonta a mi infancia en el Norte de California, donde hacía senderismo y camping por el parque de Big Basin, unos de los recuerdos más felices de mi vida.
Ser del Norte de California también supone un gran amor por el buen vino, algo que no tengo que echar de menos aquí en España. Para mí, no hay nada mejor que disfrutar de las dos cosas: una copa de vino debajo de las secuoyas. Paraíso.
Así que imagínate mi gran disgusto cuando me enteré de que una empresa española, Codorníu, quiere talar más de 62 hectáreas de bosque de secuoyas del río Gualala en el pueblo de Annapolis, California, para plantar viñedos. Me da vértigo.
. . .
---
For additional information, see:
Artesa Sonoma forest-to-vineyard conversion


CAL FIRE has approved the Environmental Impact Report (EIR) for Artesa Winery's controversial plan to clear-cut 154 acres of coastal redwood forest to plant a vineyard in Annapolis. The EIR claims that the project will have no significant environmental or cultural impacts.
El 'vino de motosierra' de Codorníu


Puede que de forma ingenua el vino se asocie al amor por la tierra y al entendimiento con la naturaleza… Lo que no aparece en tu mente, desde luego, son imágenes de motosierras talando árboles y excavadoras arrancando sus raíces para plantar viñedos.
October, 2013, El País (Spain)
---
Home | About FoGR | Get Involved | Photo Tour
River Facts
|
Forestry
|
Vineyards
|
Water Export