Sea Ranch Forum
Saturday, November 3
3:00 – 5:00 p.m.
Del Mar Center
The Sea Ranch
Local environmental groups have raised concerns about two major vineyard conversion projects that could significantly impact Gualala River stream flows, water quality and habitat for wildlife, including endangered salmon and steelhead.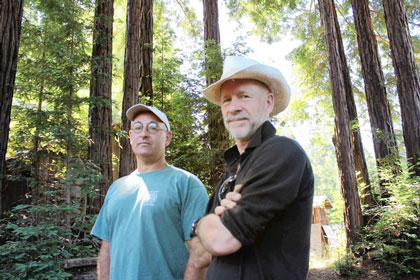 Chris Poehlmann, right, with fellow environmentalist Peter Baye (Louis Sahagun / Los Angeles Times)
Chris Poehlmann, president of Friends of the Gualala River, Justin Augustine, an attorney with the Center for Biological Diversity, and others will provide an update and answer questions on the status of the lawsuit challenging the controversial proposal by Artesa to clearcut 154 acres of redwood forest in Annapolis. The pending application by Preservation Ranch to clear more than 1,700 acres of forestland to plant vineyards will also be discussed, along with recent county measures to restrict hillside vineyard conversions.
---
For additional information, see:
Lawsuit Filed to Stop Clearcutting of Redwoods


for Sonoma County Vineyard
Conservation groups filed a lawsuit today challenging a controversial proposal by a Spanish corporation to clearcut 154 acres of redwood forest to plant wine grapes in northwestern Sonoma County. Press Release, June 7, 2012
Artesa Sonoma forest-to-vineyard conversion


CAL FIRE has approved the Environmental Impact Report (EIR) for Artesa Winery's controversial plan to clear-cut 154 acres of coastal redwood forest to plant a vineyard in Annapolis. The EIR claims that the project will have no significant environmental or cultural impacts.
Petition filed in Sonoma County Superior Court


We find legal fault with Codorniu/Artesa's "Fairfax" Conversion Project EIR on numerous grounds, including but not limited to its analysis of alternatives, water quality impacts, cultural resources, environmental setting, noise and greenhouse gases, and request the Court to set aside Cal-Fire's approval of the project and its timberland conversion permit, as well as certification of its EIR.

A Giant Step
Friends of the Gualala River (FoGR) has taken a giant step to stop vineyard projects that clearcut the river's forest, and we need your help! This is your opportunity to make a difference right in your own "back yard."