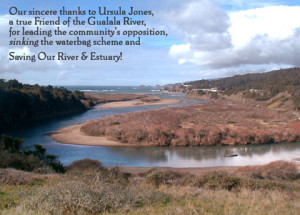 In January 2002, the Independent Coast Observer broke the story about the proposed waterbag scheme. Ursula Jones was one of the first to begin organizing to respond to this threat to the Gualala & Albion rivers and communities.
She organized the initial meetings of Save Our Rivers & Estuaries (SORE), attended by over fifty people. Seeing the need to raise funds for publicity, scientific experts and attorneys, Ursula contacted Vivian Green of the local non-profit group Friends of the Gualala River (FoGR), and the two groups agreed to merge. Ursula served initially as Vice President, and later as President, of the enlarged and energized group.
Throughout that year Ursula worked tirelessly defending the rivers against the waterbag scheme. She organized and led dozens of meetings in Sonoma and Mendocino Counties, spent countless hours communicating via phone and email, giving interviews to print and radio journalists, and hosting many meetings and visiting speakers in her home.
At the end of 2002, in the face of overwhelming public opposition, the waterbag proposal was withdrawn.
In the following years, Ursula helped lead Friends of the Gualala River as it returned to the long-standing threats to the Gualala River from unsustainable logging practices and the destruction of coastal forest to plant wine grapes.
In October 2005, Ursula is leaving the California coast (and FoGR) for Vancouver Island. We wish her all the best in her new life up north. Though we will miss her energy, her determination, her hospitality and her good humor, she can be proud that the organization she helped build will continue to defend the Gualala River.