Water Use by Vineyards
Is Challenged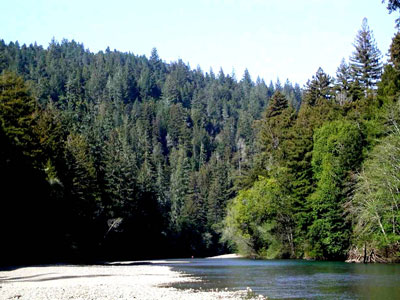 [excerpt:]
The dense forests of redwood, oak and Douglas fir that once covered much of Sonoma County have for many decades been giving way to pastures, orchards, subdivisions – and vineyards.
Now, those vineyards are emerging as yet another threat to a fish that would go just perfectly with the region's signature pinot noir: the coho salmon.
. . .
Chris Poehlman, president of Friends of the Gualala River, describes seeing oddly fluctuating streamflows in areas where vineyards and other heavy water users are found.
"In the summertime," Mr. Poehlman said, "there's been severe drawdowns with no correlation to the weather. The water level goes up and down, and that takes water from pockets where fish are trying to survive."
Water levels are only one of the issues worrying Mr. Poehlman's organization, which has spent years opposing vineyard proposals in Annapolis, a remote town west of the Russian River valley. More viticulture means interrupted wildlife corridors and less biodiversity, the group says.
"Once one project gets approved it will set a precedent for others," said Dave Jordan, a member of the group, adding that he has seen the tide of vineyards overtake neighboring landscapes. "Now all of the trees are gone, and it's just grapes from one side of the hill to the other. We want to avoid that same fate here."
---
YOU can make the difference
With your financial support, the small, all volunteer Friends of the Gualala River will be able to protect the diversity of plants and animals in these redwood forests from permanent conversion to vineyards!
Please give us an extra edge in the science-based advocacy that we do by giving generously. Making a gift is fast, easy and secure.
---
Home | About FoGR | Get Involved | Photo Tour

River Facts | Forestry | Vineyards | Water Export