KGUA Radio's Peggy Berryhill reports on
Friends of the Gualala River's August event,
"Gualala River Alchemy: Turning Wine into Water,"
followed by an interview with
Dave Jordan, recorded on October 24, 2013.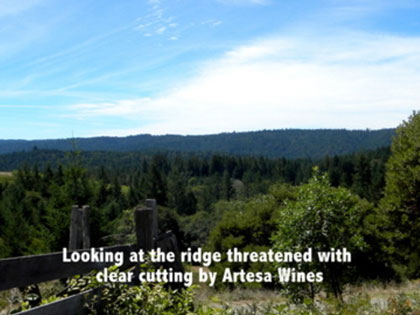 KGUA shares interviews gathered at an August rally
with the Friends of the Gualala River addressing the issues about the proposed Artesa Winery project. The development of this proposed vineyard has caused great concern among Sonoma and Mendocino residents because it calls for the clear cutting of 154 acres of redwoods in the Annapolis Ridge area. It's best to listen to this first so that you are familiar with the topic, and then listen to Dave Jordan's update on the court hearing that took place in October in Sonoma County.

Dave Jordan provides KGUA with an update on the legal hearing in a Sonoma County courtroom. Friends of the Gualala River and their allies oppose the development because they feel that the vineyard could be planted elsewhere, without having to destroy a redwood forest. Listen and you can decide for yourself.
---
For additional information, see:
Artesa Sonoma forest-to-vineyard conversion


CAL FIRE has approved the Environmental Impact Report (EIR) for Artesa Winery's controversial plan to clear-cut 154 acres of coastal redwood forest to plant a vineyard in Annapolis. The EIR claims that the project will have no significant environmental or cultural impacts.
---