Fall of the Redwood Empire
Clearcutting for vineyards is nothing new in wine country. Can it be stopped?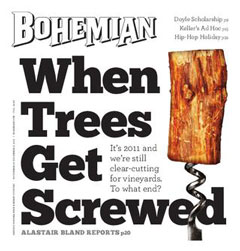 Click to view the full article
[excerpt:]
. . .
Conversion of forestland to vineyards is tremendously destructive, according to Chris Poehlmann, director of Friends of the Gualala River. The activity, he explains, is far more impactful to a forest than clear-cutting; planting a vineyard requires permanently… eliminating the forest as well as the soil, precluding any foreseeable opportunity for second-growth trees. The ecosystem from the treetops to the roots is annihilated as the stumps are bulldozed and the remaining forest detritus and topsoil scraped away, flattening the earth's surface and readying it for vines.
. . .
Even with the EIR [Environmental Impact Report] underway, environmentalists have their doubts. Jane Nielson, cofounder of the Sonoma County Water Coalition, doesn't believe that any stack of tedious paperwork can negate the reality of such a project's tremendous implications in the heart of the Gualala River watershed. "It is hard to see how a valid EIR could possibly demonstrate that this project has few or no significant impacts," she writes in an email to the Bohemian.
. . .
---
Home | About FoGR | Get Involved | Photo Tour

River Facts | Forestry | Vineyards | Water Export