Coalition asks Spanish corporation
to withdraw proposal to clear-cut
coastal redwood forest for vineyards
PRESS RELEASE
FOR IMMEDIATE RELEASE
May 5, 2011, Gualala, California
Friends of the Gualala River, a small local grassroots conservation advocacy group from California's North Coast, has joined with 18 national, California, and regional environmental organizations in asking the international wine corporation, Codorniu of Barcelona, Spain, to withdraw its controversial proposal to destroy nearly 150 acres of coastal redwood forest by clear-cutting and converting the area for new vineyards to produce premier wine grapes.
An unprecedented coalition of national, statewide, and regional environmental advocates has joined Friends of the Gualala River in its direct appeal to Codorniu, the parent corporation of the project proponent, Artesa Winery of Napa, California. Codorniu is presently the third largest winery in the world.
The coalition, including Center for Biological Diversity, California Native Plant Society, California Sportfishing Alliance, California Water Impact Network, Marin and Madrone Audubon Society chapters, Sonoma County Water Coalition, Rainforest Action Network, and Sierra Club Redwood Chapter, cite unacceptable impacts of the project due to irreversible loss of redwood forest and soils, impacts on recovery of severely threatened steelhead trout, Coho salmon, rare wildlife species, river flows, and water quality.
In 2001, Artesa acquired a 324-acre forested parcel on the flat-topped coastal ridges of Annapolis, in rural northwestern Sonoma County. Artesa then proposed a 105-acre forest to vineyard conversion on that parcel at the beginning of the marketing craze surrounding Pinot Noir wine. The project was originally given approval with minimal environmental review by the California Department of Forestry (CAL FIRE) and almost none from Sonoma County.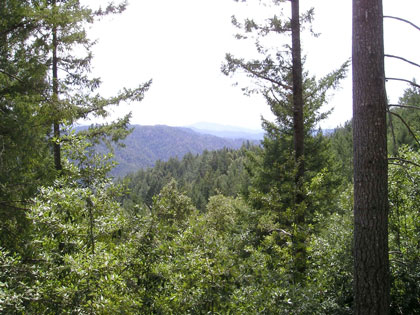 Coastal redwood forest, Gualala River watershed
Friends of the Gualala River successfully challenged the environmental review process, requiring CAL FIRE to prepare a full Environmental Impact Report (EIR). The proposal expanded to 171 acres of forest conversion in 2004, when the EIR process was started. The EIR release was delayed nearly 5 years, and was recently re-circulated in 2011.
The EIR also revealed that the site was located among a complex of Pomo villages and camps on the gently sloped ridgetop openings in the redwood forest, and included numerous archaeological sites. Prof. Peter Schmidt of the University of Florida, Department of Anthropology, believes these sites are part of a distinct Archaeological District.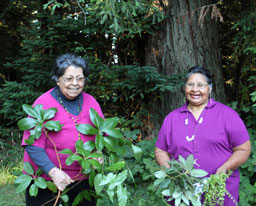 Local Pomo elders and the Tribal Historic Preservation Officer of the Kashia Band of Pomo Indians have identified the site as part of the aboriginal territory of the tribe, and recognize the cultural importance of the area as a blessed place.
For the last 150 years, the story of human interaction with the coastal redwood forests of California has been one of environmental abuse suffered during multiple waves of resource extraction. With a new entrepreneurial land rush aimed solely at soil and climate suitability for certain grape varietals, it is now a question not of mere abuse, but of a fight for the very survival of these remaining redwood forests.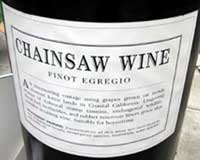 The Codorniu Artesa vineyard conversion proposal to clear-cut and permanently remove the largest single swath of redwood forest to date in Sonoma County is part of the ongoing epidemic of vineyard invasions into the coastal forests of California. It heralded the emergence of an even larger subsequent Napa-based wine corporation proposal to convert 1600 more acres of Annapolis forests to vineyards, by Premier Pacific Vineyards on a 20 thousand acre parcel nearby.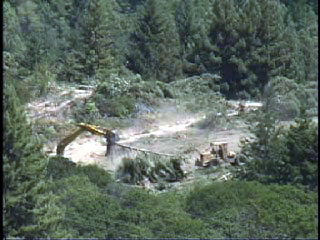 vineyard conversion near Annapolis
Despite the severe downturn in the luxury wine market in 2008, the Barcelona-based wine corporation has persevered in its original plans to remove over 150 acres of forest, removing tree stumps, ripping the soils to four feet deep, installing reservoirs and miles of wire fencing and trellises, and forever altering the hydrology of the recovering river just below — carving out a pinot noir vineyard out of a millions of year old forest ecosystem that happens to be within a new prestigious wine appellation. The Cordoniu corporation, thousands of miles away, seems to be unaware of the wave of resistance and outrage it will face as the nature of its proposal finds its way into wide media exposure.
For more information, contact:
Chris Poehlmann
President
Friends of the Gualala River
poehlman@mcn.org
707-886-5182
www.GualalaRiver.org
---
For additional information, see:

Artesa ("Fairfax") vineyard conversion EIR
CAL FIRE released the Final Environmental Impact Report (EIR) for Artesa Winery's plan to clear-cut 154 acres of coastal redwood forest to plant a vineyard in Annapolis. The EIR states that the project will have no significant environmental or cultural impacts.
The Mendonoma Coast's Second Spanish Invasion


Spanish wine corporation Grupo Codorníu is accustomed to doing things in a big way. It is reputed to own a greater expanse of vineyard acreage than any wine company in Spain, which in turn has more land under grapevine cultivation than any nation in the world.
June, 2011, Anderson Valley Advertiser

Multinational Targets the Gualala River
What if the third largest winery in the world, based in Spain, chose the recovering Gualala River watershed for a large vineyard project?

Pomo heritage threatened
The Artesa vineyard project area is "very possibly the Kashaya Pomo village Kabatui" where "human remains may be present," and which contains rich archaeological areas that are eligible for listing in the National Registry of Historic Places.

Pomo elders speak out about vineyards
Where we used to live, no one can see anything now. It is time we open our mouths. Those vineyard people are interfering with our ancestors' area…

Erasing Native American history?
As an early morning mist filters through the Redwoods in the village of Annapolis in NW Sonoma County, a Pomo elder of the Kashia band walks through the forest toward an ancient settlement site…

Desecration of Pomo history
A first step toward satisfying the responsibility for Europeans and their descendants in North America would be to treat indigenous people with respect.
---
Home | About FoGR | Get Involved | Photo Tour

River Facts | Forestry | Vineyards | Water Export