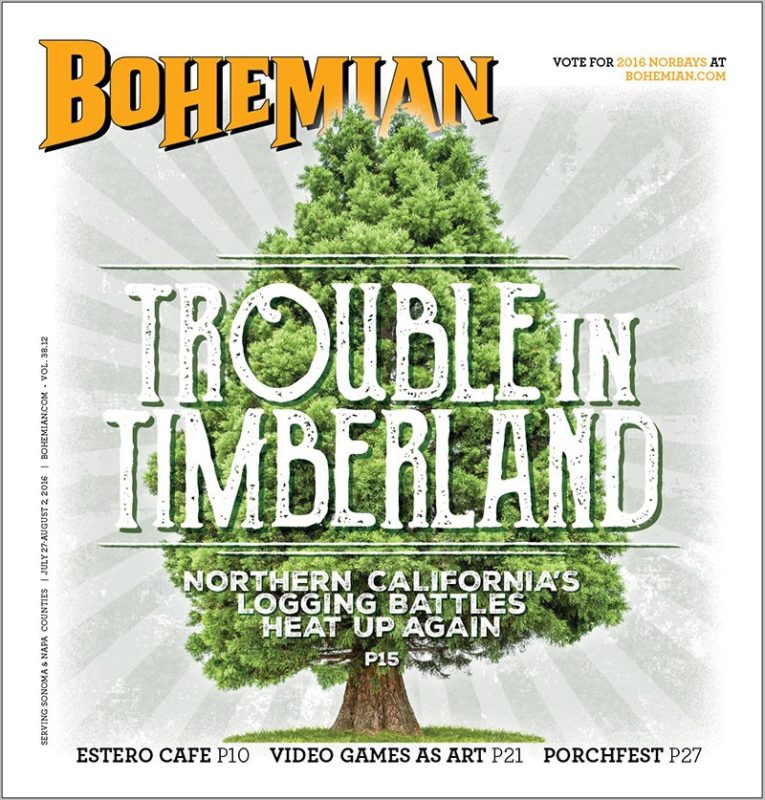 by Will Parrish, North Bay Bohemian, July 27, 2016
[excerpt:]
. . . In this story, we highlight several timber-industry fights playing out in the North Coast. These sorts of struggles will shape the long-term well-being of rural economies, the health of local ecosystems and the well-being of indigenous cultures. . . .
LOGGING THE GUALALA FLOODPLAIN
Last year, Gualala Redwoods Timber (GRT)—owner of 29,500 acres in northwestern Sonoma and southwestern Mendocino counties—submitted plans to log hundreds of large second-growth redwoods in the Gualala River's sensitive floodplain. The Dogwood Plan encompasses 320 acres, making it the largest Gualala River floodplain logging plans in the modern regulatory era.
The redwood trees in the floodplain are at least 100 years old. Sonoma County's regional parks district has eyed the floodplain area as a possible park site for more than 50 years, while a consortium of conservation groups has sought to buy the remainder of the land and create a "working community forest" characterized by a lighter-touch approach to logging.
Instead, the property has been purchased by the Burch family of San Jose, whose West Coast timber franchise spans three states.
More than a year after submitting the Dogwood Plan, Cal Fire signed off on it last month. The plan had received so much opposition from local residents and environmentalists that the company submitted the plan four different times.
Peter Baye, a coast ecologist who works with Friends of the Gualala River, notes that GRT still hasn't surveyed for spotted owls or protected species of rare plants. "I really have doubts whether they are following protocols, or just shuffling paperwork," he says.
Friends of the Gualala River and Forest Unlimited have filed a notice of their intention to sue to stop the plan. They will likely seek an injunction to stop the logging pending a trial that could occur later this or next year.
On July 16, about 200 people attended a rally against the Dogwood Plan at Gualala Point Regional Park. Gualala Redwoods Timber forester Henry Alden, whose previous job was with Maxxam, has said that criticism of the logging plan is exaggerated, and that the company plans to log much more selectively than most critics of the project have been led to believe.
Many Dogwood Plan opponents note that the Gualala River has already sustained enormous damage. According to a 2010 Cal Fire report on sustainable forest management, the average annual California timberland harvest covers 1.64 percent of private timberland acres. By contrast, the company's total logging from 2004–14 covered about 30 percent of its land, which translates to a harvest rate of around 2.7 percent per year—far beyond what experts consider sustainable.
Richard Wilson, the former Cal Fire chief, says that battles between environmentalists and timber companies will continue until timber companies are forced to limit their harvesting practices to sustainable levels that balance the needs of other species and local residents.
"Most of the public doesn't realize we still have a long way to go to get to sustainability," he says.
---
To read the entire article, visit the North Bay Bohemian: Last Stands: North Coast timber conflict flares up—again