December, 2014
It has been a productive year for FOGR with its mission to stand up for the river and its source – the 300 square mile Gualala River watershed.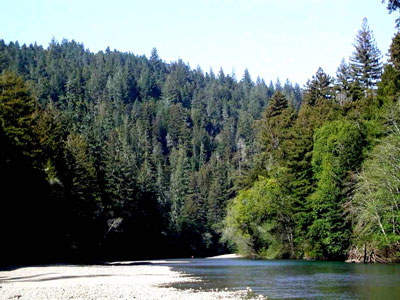 In the afterglow of our victory to stop the Preservation Ranch project, this year saw the successful conclusion of FOGR's campaign to halt the forestland conversion proposed by the 324 acre Artesa project. We have heard that the property is in escrow with the new buyers being the Lytton Band of Pomo Indians. We look forward to seeing the formulation of plans for proper preservation of the Pomo archeological resources on the site and the protection of its extensive forest from conversion. For more information, visit:
We continue our efforts to protect the Gualala River's ecology against the impacts of impaired flows to the river caused by new projects. See elsewhere on the website for the latest news.
FOGR also looks forward to the outstanding possibilities presented by the Gualala Redwoods Inc. sale of their extensive 30K+ acres of land holdings. We will actively offer our assistance to the future buyers in the process of creatively finding opportunities to provide recreational access to the river. We support the just established formation of a coalition of conservation groups and agencies with the express goal of presenting the winning proposal to the owners. See an article about this group and effort in the Press Democrat. This is an important moment in time for the prospect of a sustainable future for the river.
If you are in a position to consider a year-end contribution to a worthy local organization, please keep Friends of Gualala River in your thoughts. Your year-end boost of support will greatly aid our ongoing efforts to protect the health and beauty of our precious California river. For an enjoyable illustrated and animated view of those present projects, please visit our completely rebuilt website: GualalaRiver.org
Thank you for your past support and please accept our best wishes for a happy holiday season,
Sincerely,
Chris Poehlmann
Friends of Gualala River