Friends of the Gualala River (FoGR) celebrates the announcement that The Conservation Fund has agreed to purchase the 20,000 acre Preservation Ranch property in the Gualala River Watershed in northwest Sonoma County.
The Conservation Fund, together with their funding partners, the California Coastal Conservancy, Sonoma County's Agricultural Preservation and Open Space District, and the Sonoma Land Trust, plans to preserve the property as forest. FoGR appreciates the constructive role played by Sonoma County's Fifth District Supervisor, Efren Carrillo, in bringing about this welcome announcement.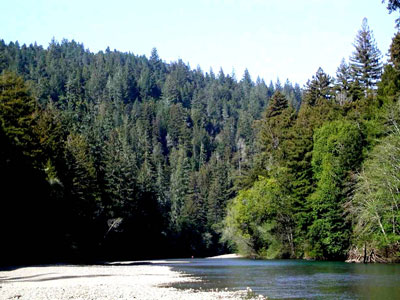 The permit process and environmental review for the project, officially begun in 2008, will end with the planned acquisition, sparing the public, regulatory agencies, and project sponsors a wasteful long-term struggle over the project's permitting.
Preservation Ranch, the largest conversion of California forestland to vineyards in history, was proposed by developers over a decade ago and included development of boutique wineries, luxury homes, road networks, and major new agricultural water demands for the Gualala River watershed. The development and road network project would have sprawled over 20,000 acres of remote, rugged northwestern Sonoma County coast ridges — in the heart of the 300 square mile Gualala River watershed.
The unacceptable environmental and cultural impacts of this massive deforestation and development project located in an area of slowly recovering forests triggered widespread protest in 2011 and 2012. FoGR persevered at the forefront of a coalition of local and statewide environmental organizations, joined by thousands of grassroots supporters. The protest resulted in an online petition of over 90,000 signatures and in national media attention.
CalPERS, the agency responsible for investing the State employees' retirement funds, held controlling interest in the project. CalPERS fired the original developer, Premier Pacific Vineyards, in 2011 after their major investment with the developer lost almost half its value and became the target of environmental protest and unwanted national attention. CalPERS initiated re-evaluation of their investment in 2012. Their sale to put former Preservation Ranch forestlands in conservatorship is the culmination of that re-evaluation.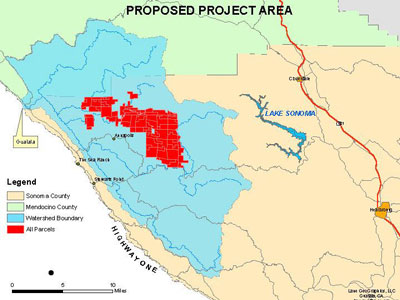 Preservation Ranch,
in the heart of the Gualala River watershed
The demise of the CalPERS' Preservation Ranch project does not signal the end of threats from vineyard deforestation projects in the Gualala River watershed. In 2001 Artesa Winery, located in Napa and owned by a Spanish corporation, initiated a forestland-to-vineyard project in Annapolis. Last year CAL FIRE issued permits for this project despite continued protests – the same protests as those elicited by Preservation Ranch. This project, now halted temporarily, is currently in litigation over faulty environmental review by CAL FIRE.
Chris Poehlmann, FoGR president said, "It takes a village to kill a monster like Preservation Ranch. We appreciate the power of many groups and individual supporters coming together to change the politics of destructive land use choices and to provide real citizen leadership. This broad coalition stepped forward to inspire CalPERS to switch from a position of developer to willing seller. And the community inspired its political leaders to take bold steps to protect our forested watershed instead of pursuing speculative, short-term profits."
"We are also relieved that we will be spared a conflict that could have dragged on painfully for years of controversy and political turbulence during environmental review as the Artesa project has," said FoGR volunteer Peter Baye. "Preservation Ranch's final demise will put the nail in the coffin of a bankrupt business and land use model for North Coast forestlands."
FoGR member Jim Jordan, a downstream Gualala River water user, noted, "Now the quality of our drinking water won't be under threat from pollutants introduced by Preservation Ranch's proposed vineyard conversions."
FoGR looks forward to The Conservation Fund's plans for forest restoration, forest and stream monitoring, and management.
Friends of the Gualala River (FoGR) is a non-profit, grassroots watershed protection association formed to share common concerns and research regarding the welfare of the Gualala River, its estuary and habitat. FoGR's goal is to protect the Gualala River watershed and the species that rely on it. FoGR works in mutually supportive relationships with coalitions of environmental groups and with grassroot supporters of environmental responsibility.
---
For additional information, see:

Preservation Ranch Acquisition
Coastal Conservancy staff recommend that the Conservancy authorize the disbursement of up to $10,000,000 to The Conservation Fund to acquire the property known as "Preservation Ranch."

Support the purchase of
Preservation Ranch
Please send a letter of support TODAY for the California Coastal Conservancy grant to purchase Preservation Ranch.

Letter from FoGR supporting the purchase of Preservation Ranch
Friends of the Gualala River enthusiastically supports the Coastal Conservancy staff recommendation to assist The Conservation Fund in the purchase of Preservation Ranch in western Sonoma County.

Preservation Ranch purchase
facing May 31 deadline
The effort to buy Preservation Ranch still needs money and a state board's okay before the controversial timber-to-grapes conversion proposed near the town of Annapolis is officially halted.
March 27, 2013, Sonoma West Times & News

$24.5 million deal to protect
20,000-acre Sonoma County forest
A national conservation group has reached an agreement to buy nearly 20,000 acres of timberland in northwestern Sonoma County, a move that derails the long-disputed, forest-to-vineyards conversion project pushed by CalPERS, the giant state workers pension fund. February 26, 2013, Santa Rosa Press Democrat
"Preservation" Ranch


The so-called "Preservation" Ranch is a 19,300 acre development in the heart of the Gualala River watershed. Premier Pacific Vineyards plans to destroy and fragment coastal redwood forest to plant grapes on the ridgetops – and call that "preservation."
Artesa Sonoma forest-to-vineyard conversion


CAL FIRE has approved the Environmental Impact Report (EIR) for Artesa Winery's controversial plan to clear-cut 154 acres of coastal redwood forest to plant a vineyard in Annapolis. The EIR claims that the project will have no significant environmental or cultural impacts.
---