"Preservation Ranch" Mega-vineyard begins
quest for permits
by Peter Baye
"Preservation Ranch" is an unprecedented and ambitious 1700 acre vineyard conversion project proposal within a 19,000 acre project area – the largest conversion of coastal forestland to vineyards ever proposed in CA, located in the heart of the undeveloped Gualala River watershed around Annapolis in northwestern Sonoma County and adjacent southern Mendocino County. If approved, it would transform the rugged and remote landscape of northwestern Sonoma County.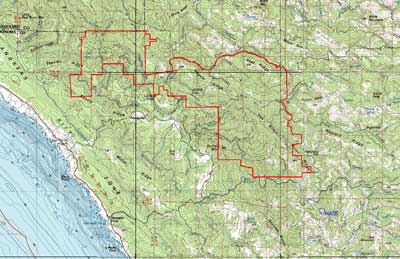 click to enlarge
The vast Preservation Ranch project boundary around Annapolis, Sonoma County, shown in red line over USGS topographic map base.
Map courtesy of Mike Lane, Lane Geographics.
After more than five years of advance planning, the giant project has finally begun the official permit application and environmental review process with Sonoma County as the lead agency. The County Permits and Resource Management Department is working on contracting preparation of the Draft Environmental Impact Report (EIR).
PR is a flagship project of Premier Pacific Vineyards (PPV), a major Napa-based vineyard developer. It was funded with major investment in PPV by CalPERS, the state employee retirement fund system.
The Preservation Ranch design includes 17 ridgetop vineyard blocks totaling nearly 1700 acres, about a quarter of which would be on slopes as steep as 30 to 38%. It also includes filling nearly 10 miles of Class III (seasonal) streams, 40 new reservoirs up to 49 acre-feet in size, and over 85 miles of 8 ft. wildlife fencing, as described in the Initial Study for the project.
PPV coined the "Preservation Ranch" title for the forest-to-vineyard conversion — a name its critics ridicule as Orwellian doublespeak. The 1700 acre vineyard project is promoted as a financial engine for "restoration" of the remaining over-cut forestlands within the 19,000 acres of former Longview Tract (Padula) lands now owned by PPV. Restocking over-cut slopes with planted trees, fixing or closing roads, conservation easements, and other environmental benefits are claimed by PPV to more than offset the impacts of vineyard conversion.
To date, however, no environmental organizations or independent scientific experts are buying the sales pitch of "Preservation Ranch" as a public conservation benefit. River and forest advocates criticize the claimed forest restoration benefits as hollow distractions that redirect public attention from fundamental water diversion, pesticide, and development impacts of the project on fish, forests, wildlife, and the quality of human life in the watershed. These real impacts, they argue, are not offset by PPV's promises to plant more trees on the slopes that are too steep to plant with grapes, and "protect" them with conservation easements.
The developer, PPV, has also come under fire for its past conservation easements after the Land Trust of Napa County discovered that a promised wildlife corridor on another one of its projects did little to restrict development or protect wildlife.
To help the controversial "Preservation Ranch" sail through public comments and the environmental review and permitting process, PPV hired a development-oriented environmental consultant and attorney, Tom Adams, and Sonoma County real estate/land use attorney and former county Supervisor Eric Koenigshofer, to defend and promote the project. Koenigshofer was a key campaign advisor for new Sonoma County supervisor Efren Carillo, who defeated rival Rue Furch, a county planner opposed to Preservation Ranch. Carillo's fundraising base has been reported to be mostly developers, loggers, Russian River gravel miners (including Syar), and industrial agriculture.
As vineyards encroach and fragment extensive forest or woodland landscapes, they create new wildlife-human conflicts. Vineyards are the largest source of requests for depredation permits (permission to kill bears, deer, turkeys, and other unwelcome wildlife consumers of wine grapes, according to Eric Larson of the California Department of Fish and Game. Vineyard owners were the reason state law was changed to include wild turkeys on the list of animals that can be killed.
The forests and woodlands of the Gualala River watershed have no dams, and until 2000, had almost no crop agriculture. Adina Merenlender, a researcher at UC Hopland Extension who studies vineyard spread, reports that vineyard acreage in northern Sonoma County increased almost 52% between 2000 and 2006.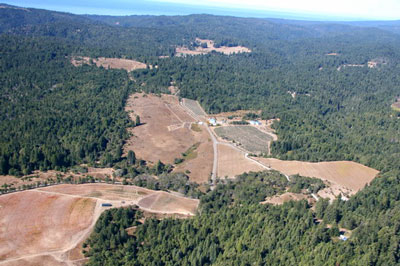 Vineyard conversions in Annapolis replace or recontour formerly forested ridgetops, spreading agricultural impacts in the redwood coast watershed.
Photo courtesy of Jamie Hall, Annapolis.
Pesticide loads in the Gualala River watershed were limited mostly to timber management use of herbicides. Sonoma County vineyards in 2000 applied 48,490 lbs of glyphosate (Roundup herbicide), 163,648 lbs of dichloropropene, 132,159 lbs of methyl bromide (two highly toxic soil-sterilizing poisons), 32,823 lbs of mancozeb (a fungicide highly toxic to fish), according to UC Davis analysis of statewide pesticide reporting, not including accidental spills. Sea Ranch and Gualala residents use the Gualala River for drinking water.
The market for new premier wine grapes has changed drastically since the project began during the peak of the Pinot Noir craze. Demand for premium Pinot Noir grapes has slumped in the recession, and wine consumer preferences are known to turn on whims of fashion. The Press Democrat reported this summer that pinot noir grapes commanding $3,000 a ton last year is getting about $1,700 this year, and much of the crop that was not already committed to contract is going unsold.
Critics of the project point to the shaky economic foundations of the Preservation Ranch project's various incarnations – luxury homes and luxury wines for which markets have slumped, with no foreseeable change ahead. "Is there even a viable business plan for this, or is it just dead-end speculation fueled by CalPERS investment dollars?" asks Annapolis resident Chris Poehlmann of Friends of the Gualala River.
Craig Bell, Mendocino County's eminent river restorationist, steelhead fisherman, and forester, is alarmed by vineyard conversions in North Coast forests. "Vineyard development is a real threat" to recovery of Gualala steelhead, in his opinion, and is "the last thing I'd want in my watershed". He argued that vineyard threats are cumulative impacts, not due to single vineyards in isolation, but the aggregate effect of many of them in the same watershed. In terms of fish and flows, vineyards are a different kind of wine headache: "Three aspirin will cure a headache, but one hundred can kill you", he offered as an analogy of the difference between a few vineyards and a watershed full of them.
---
Home | About FoGR | Get Involved | Photo Tour

River Facts | Forestry | Vineyards | Water Export