This is the text of a
Petition on Change.org
It was posted on November 4, 2013
and signd by more than 5,000 people.
Petitioning: Keith LaVine, President, Artesa Vineyards & Winery
Created by Friends of the Gualala River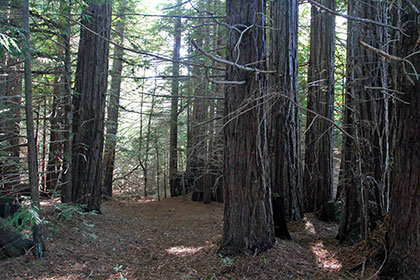 Artesa Winery's planned vineyard development is the only project in California proposing deforestation of coastal redwoods. Allowing this would set a precedent for other vineyard developers to destroy redwood forests in California.
The project has already been granted permits from California state agencies. Only a lawsuit from the Sierra Club, Center for Biological Diversity, and Friends of the Gualala River has temporarily stopped the chainsaws and bulldozers from permanently removing the forest, sterilizing all its soils, and desecrating its ancient Pomo Indian heritage.
Artesa's plan to log over a million board-feet of coastal redwood and douglas fir is more than simply clear-cutting the forest. They will rip out redwood roots and stumps that would otherwise regenerate. They will completely scrape away ancient forest soils and organisms, and apply pesticides. In addition, they will construct roads that are potential sources of sediment pollution to rivers and streams – home to endangered Coho salmon and Steelhead trout – and build fencing that fragments wild life habitat. It won't be a pretty sight.
If this project is not stopped or withdrawn voluntarily, it will attract other vineyard developers to exploit this project's approval. It will unleash additional and sprawling piecemeal vineyard development in second-growth redwood forests in the region. Artesa is literally paving the way for innumerable copycat vineyard deforestation projects.
With the help of tens of thousands of Change.org petitioners, we were successful last year in convincing public investment funds to purchase "Preservation Ranch," another vineyard deforestation project. The petition signers convinced CALPERS (California Pension and Employee Retirement System) to abandon their planned development and sell the 20,000 acres of coastal forestland to The Conservation Fund for sustainable yield forest management and conservation in perpetuity.
But Artesa is privately owned by a large Spanish corporation, Codorniu. They want only vineyards, not forests. We need your help to convince Artesa and its parent corporation Codorniu that it is unwise to embark on an obviously unsustainable project because redwood deforestation for red wine may permanently stain their reputation in the wine market.
Please sign this petition, and tell your friends – and tell Artesa too – that:
Artesa should withdraw the Artesa-Sonoma Annapolis vineyard deforestation project permanently.
You will not drink Artesa's wine made from deforestation of redwoods.

Educated wine drinkers are outraged by wine made from deforestation of redwoods and desecrated Pomo Indian heritage lands.
Even the finest red wine, if produced by redwood deforestation, is undrinkable.
Artesa Winery is jeopardizing its reputation by insisting on developing new vineyards in redwood forestland. National and international awareness and disapproval of the Artesa redwood deforestation project continue to grow.

Artesa should develop only sustainable vineyards on agricultural lands, not forestland.
Artesa's vineyards do not belong in redwood forests. Artesa can develop new vineyards at alternative locations without redwood deforestation.

Petition letter

To:
Keith LaVine, President, Artesa Vineyards & Winery
Artesa Vineyards & Winery
Artesa Wine Club
Aveniu Brands, Artesa's wholesaler
Codorniu, Parent corporation, headquartered in Spain

Don't destroy redwood forest for vineyards

I urge you to withdraw the project at this forested site, and develop your vineyard on an alternative agricultural site to restore the respect of Artesa as a producer of fine and sustainable wines.

I would not drink or recommend any wine produced by a company that logs and bulldozes redwood forests to develop its vineyards. I am appalled at the socially and environmentally irresponsible Artesa Sonoma vineyard development project in Annapolis, California, where you plan to clear-cut over a million board-feet of timber and bulldoze ancient soils in a culturally sensitive Pomo heritage district.

I am committed to spreading my opinion about Artesa Vineyards and Codorniu regarding this vineyard deforestation project. Please invest in honorable, socially and environmentally respectable vineyard development projects. Sincerely, [Your name]

---