Artesa claims there is no forest on their property.
Below are some recent photos of Artesa's property in northwestern Sonoma County. Take a look and decide for yourself: Forest, or not a forest?
Click to enlarge any of the photos below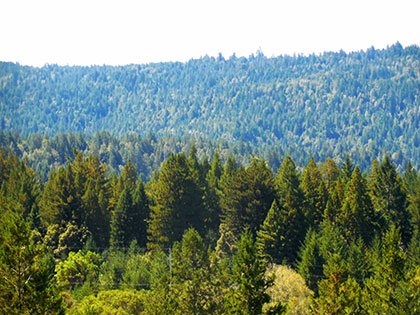 Artesa's property in foreground, forested ridges in background.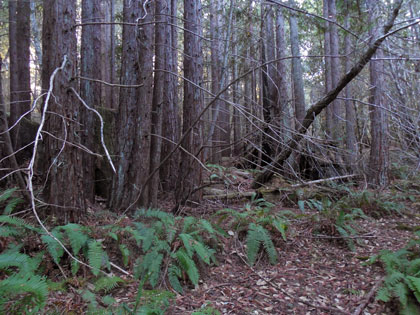 Dense grove of redwoods with ferns in foreground.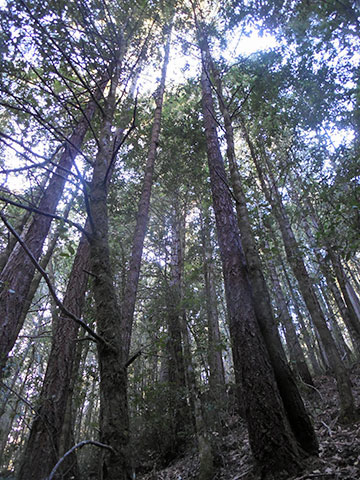 Long-axis views up the trunks to crowns.
Artesa Vineyards and Winery received a 154-acre timberland conversion permit from the CA. Dept. of Forestry. They plan to cut 1.25 million board-feet of redwood & doug fir, bulldoze the land and plant a vineyard on a property they purchased in northwestern Sonoma County.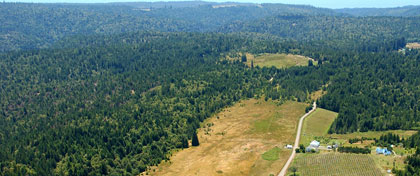 Artesa's property (left, foreground) extends beyond left edge of photo.
View is towards the west. Starcross Monastic Community in lower right.
Starcross and Artesa each own about half of the meadow in the middle.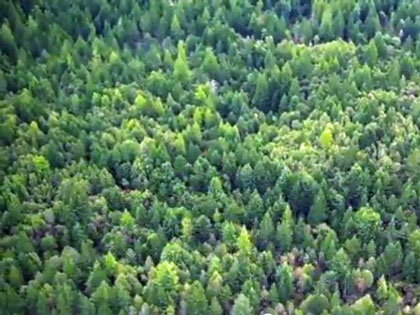 Aerial view of the Artesa Sonoma property, November, 2013.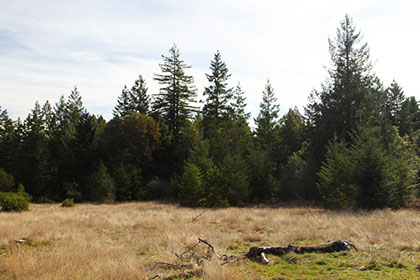 20 acres of Artesa's property is meadow, the other 304 acres have trees.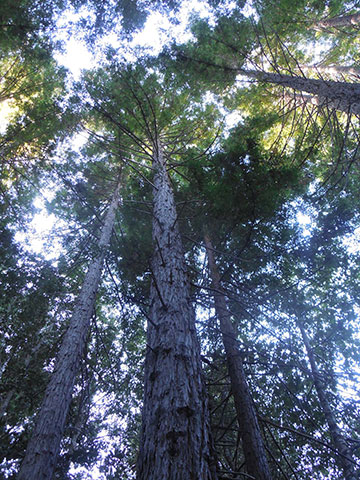 Some of these trees are over 100 feet high.
The environmental impact report for their project says:
"Vegetative cover on the timberland conversion portion of the site consists of young-growth coast redwood and Douglas-fir intermixed with madrone, tanoak, coast live oak, California bay, and bigleaf maple… Timber on the project site is located in even aged stands that are approximately 50 to 75 years old."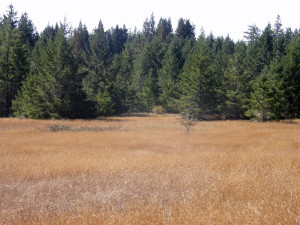 Edge of Artesa's property, viewed from the road.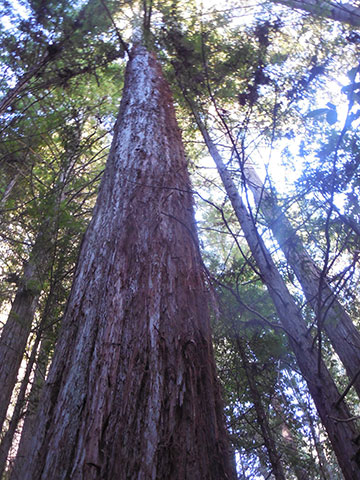 Large redwood on Artesa's property in northwestern Sonoma County.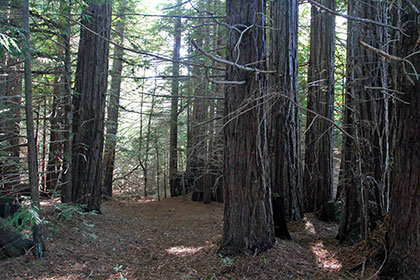 In the middle of the trees.
Andrea Matarazzo, an attorney representing Artesa, told the Sonoma County Superior Court that:
"The project site is not a 'redwood forest'… it was completely harvested and converted to grazing and orchard… Conifer timber is now just beginning to recapture the site."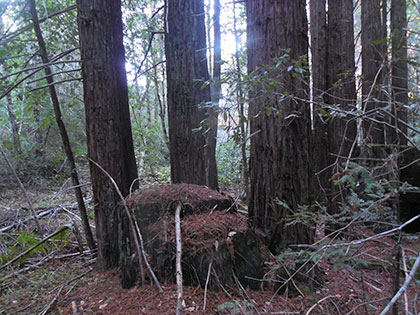 Grove of second-growth daughter redwood cluster resprouted around mother old-growth stump. Even clear-cut logging doesn't destroy forests as vineyards do; these trees resprouted after logging.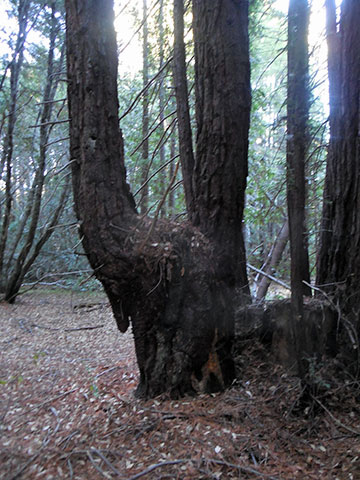 Redwood sprouted from stump.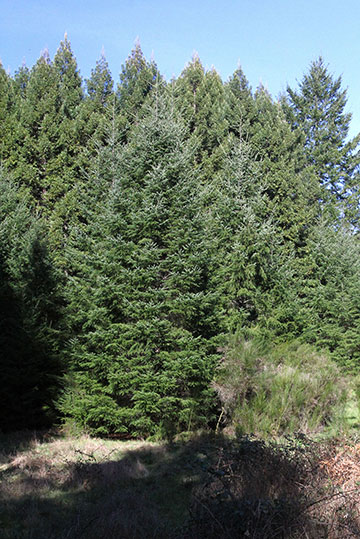 Even young (50-75 year-old) redwoods & doug fir are BIG trees.
Sam Singer, a spokesman for Artesa, said, "there aren't forests here…. This is agricultural land."
[According to the
North Bay Bohemian
, Singer is "often hired by big-name clients to 'soften' environmental crises — including the Chevron refinery fire in Richmond, the Cosco Busan oil spill in the San Francisco Bay and logging at the Bohemian Grove."]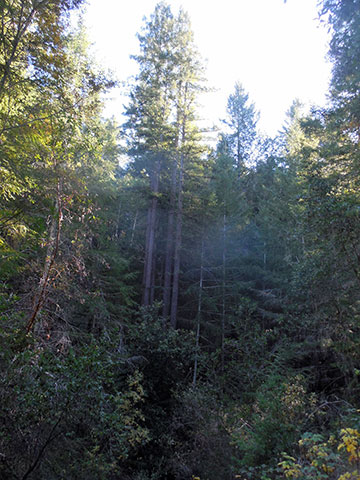 This is agricultural land?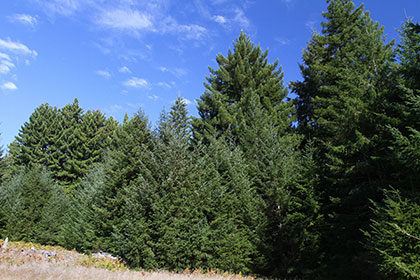 "The original people on this land have always said the redwoods are sacred, the oaks are sacred, the water is sacred, the salmon are sacred." – Starhawk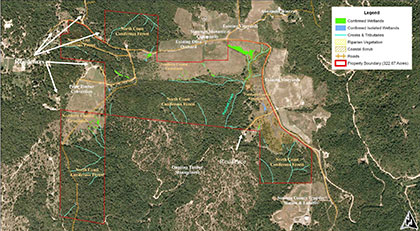 Aerial photo & overlay from the environmental impact report, Figure 3.2-1.
Note the areas labeled "North Coast Coniferous Forest."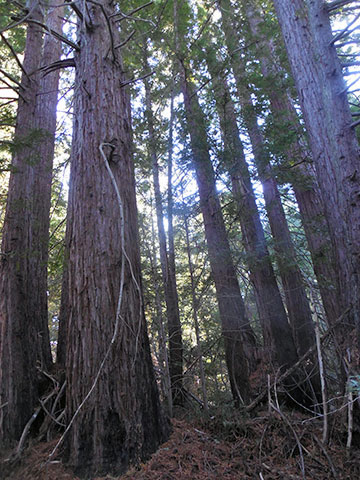 Large redwoods above Patchett Creek.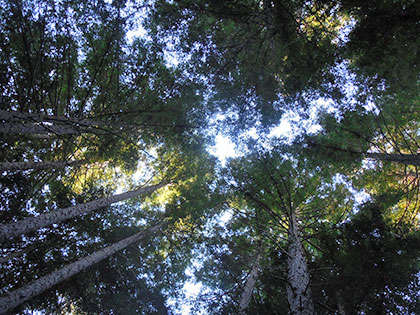 Forest canopy.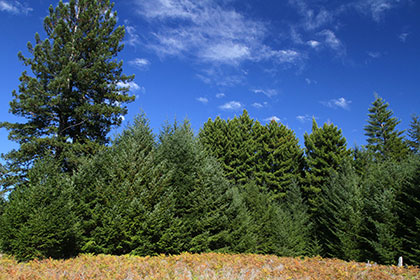 "These places where we lived for thousands of years, we didn't just come into a place and just tear it up." – Eric Wilder, Kashaya Pomo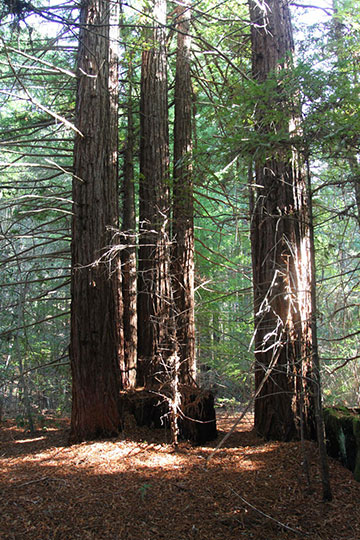 These will become majestic redwoods,
if they're not cut down to plant grapes.
What do YOU think?
Forest, or not a forest?
---
Their website, ArtesaSonoma.com says:
"Several recent articles were published in newspapers throughout the United States that contained a number of inaccuracies including stating that Artesa Vineyards and Winery intended to clear cut old-growth redwood trees and that development of our Annapolis property would interfere with fragile fisheries."
Friends of the Gualala River has never suggested that Artesa is planning to "clear-cut old-growth redwood trees" – because we live here, and we know that the forest on Artesa's property is second growth (except for very few relict old growth trees). We are opposed to their plan to clear-cut second growth redwood forest. See: Artesa: Clear-cut old growth redwood trees or destroying redwood forest?
---
For additional information, see:
Artesa Sonoma forest-to-vineyard conversion


CAL FIRE has approved the Environmental Impact Report (EIR) for Artesa Winery's controversial plan to clear-cut 154 acres of coastal redwood forest to plant a vineyard in Annapolis. The EIR claims that the project will have no significant environmental or cultural impacts.
---
Home | About FoGR | Get Involved | Photo Tour
River Facts
|
Forestry
|
Vineyards
|
Water Export