What price one more
bottle of wine?
by Tolbert "Toby" McCarroll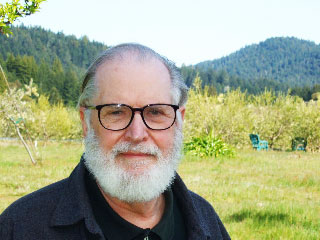 Brother Tolbert McCarroll
Starcross Monastic Community, Annapolis, CA.
The phone at Starcross rang frequently the day The Press Democrat ran a story mentioning the impact on our contemplative community of noise resulting from the Artesa/Codorniu conversion of forest to vineyard, adjoining our land.
One caller said: "I was in the wine business for 28 years. We don't need more wine. From the minute they cut the first tree you will have no peace!"
Starcross was identified in the article as a "lesser known and late breaking critic." We have been raising the same concern about noise repeatedly, at every opportunity since 2004.
We have been and still are ignored, despite the fact that the noise-producing corporate yard has been placed over our objection only 440 feet from our property line in an area known for carrying noise from hillside to hillside. No noise study has ever been carried out by Artesa/Codorniu on our land.
The well-known and talented crisis consultant recently hired by Artesa/Codorniu referred to our concerns as "minor." He was just doing his job, and he is good at it. But Cal Fire had the same attitude, and this is troubling to me.
I like wine and vineyards. Starcross is privileged to have two family vineyards adjoining us. There have never been difficulties between us in the 36 years we have been neighbors. We know one another's dreams, and we are sensitive to them. They know that peace and quiet is essential for our life and our mission. It is impossible to have the same relationship with a giant multi-national corporation whose owners reside on estates far across the ocean.
Sonoma County has noise ordinances covering our concerns. We suggested that if Artesa/Codorniu would commit to these standards it would satisfy our concerns. There was no response. Had the county been overseeing this large conversion project, I believe they would have attempted to balance the various public interests, including the concerns of adjoining property owners such as ourselves with the profit-making objectives of Grupo Codorniu with its lawyers, public relations and other experts. One of those was recently on the phone with our Sister Marti screaming, "You have no leverage with Cal Fire. You have no leverage with Artesa!" Over and over. He was so loud that others of us could hear him.
What is the leverage that we lack? Presumably he means some special relationship with Cal Fire. The concern about a lack of independence in the process has been commented on by a number of others. This is not something for our small community to solve, but it is certainly something to be examined by appropriate authorities if CalFire is to continue to oversee massive conversions of redwood forest to vineyards.
Recently, when I stepped out of our chapel, the sun had just risen. A piercing cry of a mountain lion came out of the redwood trees that may soon be cut down. Probably the lion was only looking for a mate, as his ancestors have been doing for centuries. But as our neighbor, a Kashia Pomo spiritual elder, said to me a few weeks back about a similar situation, "He is crying over the loss of his home."
She could be right.
---
Home | About FoGR | Get Involved | Photo Tour

River Facts | Forestry | Vineyards | Water Export