Vintage Capital
When it comes to investing in wine,
the old saw goes something like this:
How do you make a small fortune from a vineyard? Start with a large fortune.
[excerpt:]
CalPERS… is said to be making an exit….
The properties are unofficially on the block…
"There are a lot of people interested in those vineyards for the right price," Freund says. "CalPERS does not want to piecemeal the sale of these properties. They are huge parcels–too big for most wineries to buy. But [wineries] could form a partnership and buy them together and divide the fruit."
What went wrong? The value of the land, after all, did not decline…
The PPV (ie CalPERS) vineyards are massive. Although not yet developed, for example, the plans for the highly controversial Preservation Ranch [emphasis added] in Sonoma County involve clear-cutting 1,700 acres of Redwoods, a gravel-mining operation, industrial-scale water diversions and building 90 miles of roads.
"[PPV's] vineyards are first-class," Freund says, "but the cost was above and beyond what anybody else had ever spent. They were dynamiting out stone to get these vineyards in."
And for a grape grower, it was a relatively high-risk strategy.
Vineyards are 30-year investments that require three years to get a crop (and cash flow), five or six years for the crop to mature, and seven years to earn a return…
…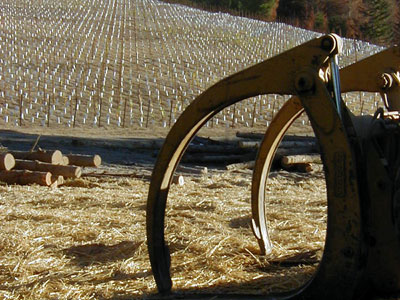 Newly planted vineyard in northern California
---
For additional information, see:
"Preservation" Ranch


The so-called "Preservation" Ranch is a 19,300 acre development in the heart of the Gualala River watershed. Premier Pacific Vineyards plans to destroy and fragment coastal redwood forest to plant grapes on the ridgetops – and call that "preservation."

Artesa ("Fairfax") vineyard conversion EIR
The Draft Environmental Impact Report (EIR) released in 2009 claims that the proposed destruction of 171 acres of coastal redwood forest to plant a vineyard would have no significant environmental or cultural impacts.
---
Home | About FoGR | Get Involved | Photo Tour

River Facts | Forestry | Vineyards | Water Export