The Wrath of Grapes
How a Goldman Sachs executive
is helping to kill Mark West Creek
– and what the county isn't doing about it
[excerpt:]
For decades, Sonoma County's wine industry has been thriving. The county's salmon and steelhead, meanwhile, are vanishing, and some fisheries biologists, attorneys and conservationists assure that the wine industry's gain is the Russian River's loss.
To Patrick Higgins, the story boils down to a one-line synopsis: "The county is trading fish for wine." Higgins is a private-practice fisheries biologist in Arcata. Among his ongoing battles to save the North Coast's struggling fish species, including federally endangered coho salmon and steelhead trout, is the fight for Mark West Creek.
Though many streams naturally dry up during the arid summers of Sonoma County, this small tributary of the Russian River historically has not. Mark West Creek was once the main spawning stream for the steelhead and coho salmon that made the Russian River famous.
. . .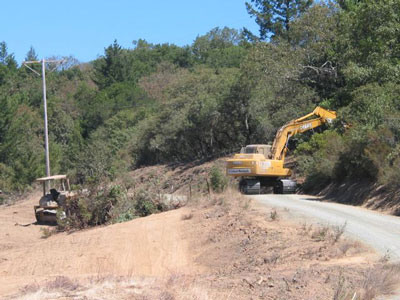 Cornell Winery site on Mark West Creek,
unpermitted grading, 2005.
photo credit: Friends of the Mark West Watershed
---
See also:

"The Murder of Mark West Creek"
Out of control vineyard development by a Goldman Sachs executive devastates critical salmon habitat on Mark West Creek.
November, 2010, Anderson Valley Advertiser
---
The North Coast Wine Industry:
Draining Our Rivers Dry
Thursday, March 3, 2011
7:00 p.m.
Gualala Arts Center

Investigative reporter Will Parrish will discuss his controversial recent series for the Anderson Valley Advertiser on the ecological toll of California's wine industry, with a special emphasis on rapacious vineyard development in the Gualala River watershed.