by Laird Harrison
June 4, 2013
KQED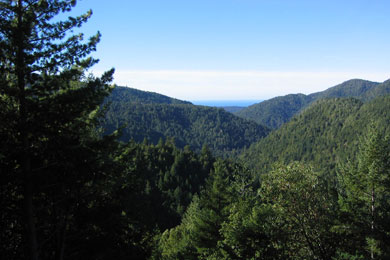 [excerpt:]
Can you preserve a forest by logging it? A land conservation group thinks so.
The Conservation Fund announced Monday that, along with some partners, it had acquired 19,645 acres of forest in Sonoma County. The land had been slated for planting vineyards.
Preservation Ranch will become part of a larger swath of 75,000 acres managed with "light touch" timber harvesting. The idea is to cut down small, weak trees, allowing big, strong ones to grow, said Chris Kelly, California program director of the Conservation Fund.
. . .
"If we can just slow down harvest rates, reduce sedimentation and manage these forests for their ecological and economic benefits, we think we can bring the fish back," [Kelly] said.
. . .
---
For additional information, see:

Preservation Ranch Acquisition
Coastal Conservancy staff recommend that the Conservancy authorize the disbursement of up to $10,000,000 to The Conservation Fund to acquire the property known as "Preservation Ranch."

$24.5 million deal to protect
20,000-acre Sonoma County forest
A national conservation group has reached an agreement to buy nearly 20,000 acres of timberland in northwestern Sonoma County, a move that derails the long-disputed, forest-to-vineyards conversion project pushed by CalPERS, the giant state workers pension fund. February 26, 2013, Santa Rosa Press Democrat
"Preservation" Ranch


The so-called "Preservation" Ranch is a 19,300 acre development in the heart of the Gualala River watershed. Premier Pacific Vineyards plans to destroy and fragment coastal redwood forest to plant grapes on the ridgetops – and call that "preservation."
Artesa Sonoma forest-to-vineyard conversion


CAL FIRE has approved the Environmental Impact Report (EIR) for Artesa Winery's controversial plan to clear-cut 154 acres of coastal redwood forest to plant a vineyard in Annapolis. The EIR claims that the project will have no significant environmental or cultural impacts.
---