[excerpt:]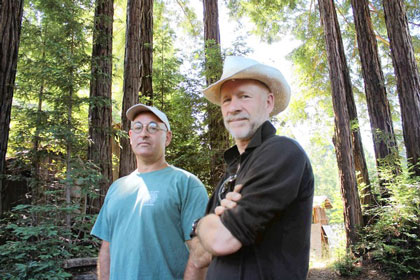 Chris Poehlmann, right,
with fellow environmentalist
Peter Baye
(Louis Sahagun / LA Times)
Two plants have long been iconic to Northern California: the soaring redwood tree and the lush wine grapevine. But should one be sacrificed for the other?
That question is being raised in Sonoma County a few miles from the Pacific and above the fog line, where two large wineries are petitioning the state to allow them to clear 2,000 acres of redwoods and Douglas firs to make room for new Pinot Noir vineyards.
. . .
Opponents organized under the banner Friends of the Gualala River have enlisted allies among the Kashia Band of Pomo Indians, who worry that the project would destroy sacred remains scattered throughout the targeted groves.
"I get mad just thinking about the people from far away who can't wait to buy wine from vineyards that would destroy our forests and ancestral lands," said Violet Parrish, a Pomo tribal elder who lives near Annapolis. "We don't want those vineyards, or the fertilizer and pesticides that would pollute water supplies our children will depend upon."
. . .
---
YOU can make the difference
With your financial support, the small, all volunteer Friends of the Gualala River will be able to protect the diversity of plants and animals in these redwood forests from permanent conversion to vineyards!
Please give us an extra edge in the science-based advocacy that we do by giving generously. Making a gift is fast, easy and secure.