Letter to the editor
Pomo support
This letter appeared in the September 15, 2010 issue of the
Santa Rosa Press Democrat.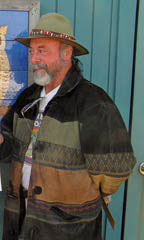 EDITOR: In response to Professor Peter Schmidt's Close to Home column ("Don't choose vineyards over history, redwoods," Sept. 1), I have to concur with his observation that the land being considered for vineyard conversion near Annapolis is of such intrinsic cultural value to the Pomo people and to all Native Americans that any desecration of that site will be a loss of such magnitude that the history of native people would be, at the very least, diminished and not mitigated.
When you commit acts with intent to destroy an ethnic, racial or religious group, in whole or in part, or cause them serious bodily or mental harm, well, the civilized world has a word for that. The word is genocide.
Guilt is not readily passed down through generations but responsibility can be. A first step toward satisfying that responsibility for Europeans and their descendants in North America would be to treat indigenous people with respect – something that, alas, cannot be taken for granted.
RANDALL SINCLAIR
Annapolis
---
For additional information, see:

Pomo heritage threatened
The Artesa vineyard project area is "very possibly the Kashaya Pomo village Kabatui" where "human remains may be present," and which contains rich archaeological areas that are eligible for listing in the National Registry of Historic Places.

Pomo elders speak out about vineyards
Where we used to live, no one can see anything now. It is time we open our mouths. Those vineyard people are interfering with our ancestors' area…

Erasing Native American history?
As an early morning mist filters through the Redwoods in the village of Annapolis in NW Sonoma County, a Pomo elder of the Kashia band walks through the forest toward an ancient settlement site…
Artesa ("Fairfax") vineyard conversion EIR


CAL FIRE released the Final Environmental Impact Report (EIR) for Artesa Winery's plan to clear-cut 154 acres of coastal redwood forest to plant a vineyard in Annapolis. The EIR states that the project will have no significant environmental or cultural impacts.
---
Home | About FoGR | Get Involved | Photo Tour

River Facts | Forestry | Vineyards | Water Export