May We Suggest a Pinot
With That Redwood Forest?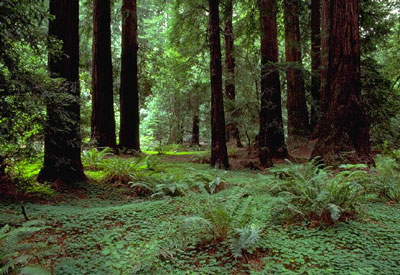 [excerpt:]
How much is a good Pinot worth? Depending on the establishment, a glass can run anywhere from $5.00 to $30.00, a bottle from $25.00 on the very low end to upwards of $123,899 if you ask for 1945 Domaine de la Romanée-Conti (with a name that long you'd expect to pay big bucks!).
What you wouldn't expect is the latest MSRP (manufacturer's suggested retail price) on Pinot from the gorgeous, natural environs of Sonoma County in Northern California. Are you sitting down? That Pinot, ladies and gentlemen, is going to run you around 1600-plus acres of freshly mowed-down Redwood forest.
That must be some wine.
Yep, it seems whetted wine drinkers the world over simply can't get enough of the California Pinot grape and so Napa vineyards Artesa (owned by Spain-based wine producers, Codorniu) and Premier Pacific — both anxious for passionate Pinot commerce — put their heads together, scouted the grape-friendly nooks and crannies of nearby regions and came up with the stellar proposal to deforest those pristine acres of majestic Redwoods and Douglas Firs in the small town of Annapolis in Sonoma County, CA; a heretofore remote area teeming with protected wildlife, the crystalline clear waterways of the Gualala River, and hills and dales of lush forest.
Now that sounds like an area ripe for destruction, doesn't it? Ironically, they're calling it Preservation Ranch. No, really.
. . .
---
Home | About FoGR | Get Involved | Photo Tour

River Facts | Forestry | Vineyards | Water Export