Into the Woods
Two proposed vineyard projects
in remote areas of Sonoma County
are drawing the ire of
neighbors and environmentalists –
but can winegrapes preserve a redwood forest?
[excerpt:]
In western Sonoma County, two large-scale, forest-to-vineyard conversion proposals have been igniting environmental passions and opening urgent discussions about the future of land use in the county. While the choice, on the surface, is about forests versus Pinot Noir grapes, the essential discussion is about the preferred character of Sonoma County — and sustainability itself.
Both projects are larger, by far, than any conversion previously brought to the county, but one, Preservation Ranch, a 20,000-acre project in the heart of the Gualala River Watershed, is vastly larger, more complex and controversial… and, as of this writing, has suddenly become more so.
In October, just as those who see their job as protecting the integrity of the forest and the river were braced for a fight to the finish, something — the economy, a management glitch, or perhaps just a simple twist of fate — has thrown a wrench into the deal. Now Project Preservation Ranch itself is up in the air. As of press time, nobody knows where or when it will come down. Here's what we do know…
. . .
Local residents, ecological scientists and groups such as the Sierra Club and Friends of the Gualala River say the local quality of life depends on a healthy forest, river and streams, including respect for native cultural heritage — and that Preservation Ranch will do irreparable harm to all of these elements.
. . .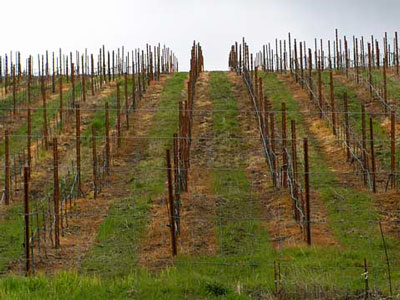 Newly planted vineyard in Annapolis, CA
---
For additional information, see:
"Preservation" Ranch


The so-called "Preservation" Ranch is a 19,300 acre development in the heart of the Gualala River watershed. Premier Pacific Vineyards plans to destroy and fragment coastal redwood forest to plant grapes on the ridgetops – and call that "preservation."

Artesa ("Fairfax") vineyard conversion EIR
CAL FIRE released the Final Environmental Impact Report (EIR) for Artesa Winery's plan to clear-cut 154 acres of coastal redwood forest to plant a vineyard in Annapolis. The EIR states that the project will have no significant environmental or cultural impacts.
---
Home | About FoGR | Get Involved | Photo Tour

River Facts | Forestry | Vineyards | Water Export