Study: Global warming threatens North Coast vineyards
[excerpt:]
. . .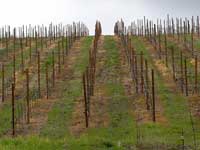 Global warming could leave half of Napa Valley's famed vineyards unsuitable to grow premium grapes by 2040, according to the latest study to raise questions about the impact of climate change on California's wine industry.
The study, issued this week by researchers at Stanford University, predicts temperatures on the North Coast will surpass 95 degrees far more frequently in 30 years, making it harder to grow high-quality grapes that thrive in cooler temperatures.
Over the last half-century, temperatures have exceeded 95 degrees an average of 20 days every year on the North Coast, according to the study. By 2040, the region will experience 10 additional hot days each year, Stanford researchers predicted.
The extra heat could shrink the size of the area suitable for growing ultra-premium grapes in the Napa Valley by 50 percent, the study predicts, "suggesting a decrease in the overall quality and value of the producible area." . . .
---
Home | About FoGR | Get Involved | Photo Tour

River Facts | Forestry | Vineyards | Water Export