Forest lands
eyed for vineyards
[excerpt:]
. . .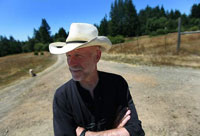 Chris Poehlmann, president of Friends of Gualala River, is objecting to a 146-acre timber-to-vineyard conversion.
(Kent Porter/Press Democrat)
ANNAPOLIS – Beyond the dusty homesteads and small fruit orchards that ring this isolated town stand vast forested hillsides that long have been the domain of timber companies.
But as logging has waned, the sprawling northwest Sonoma County landscape of second-growth redwood and fir is being eyed for another crop: premium grapes for top-dollar wines. . . .
Opponents say the vineyards would harm water resources and imperil wildlife, including beleaguered salmon and steelhead populations in the Gualala River watershed. . . .
"It's a question of cumulative impacts. How many digits do you want to lose?" said Chris Poehlmann, an Annapolis resident who heads the non-profit Friends of the Gualala River, which opposes both projects. "These vineyards are biological deserts. It's worse than a clear cut. This is permanent conversion from a natural landscape and it has its consequences."
Also threatened by the Artesa project, some say, are tribal artifacts from former Kashia Pomo sites in the area. Many artifacts are still thought to be buried on the property. . . .
---
Home | About FoGR | Get Involved | Photo Tour

River Facts | Forestry | Vineyards | Water Export