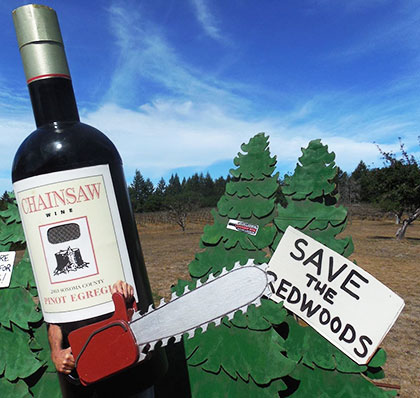 La matanza de Sonoma.
[excerpt:]
Puede que de forma ingenua el vino se asocie al amor por la tierra y al entendimiento con la naturaleza. Cuando piensas en esta bebida, te vienen a la cabeza bucólicas colinas cubiertas por viñas, agricultores con cestos llenos de uvas y pajaritos revoloteando (eso si piensas en un vino decente, no en uno de tetrabrik). Lo que no aparece en tu mente, desde luego, son imágenes de motosierras talando árboles y excavadoras arrancando sus raíces para plantar viñedos. Escenas que pronto se pueden producir en California, donde algunos grupos ecologistas locales están en pie de guerra contra un proyecto del grupo Codorníu.
. . .
---
For additional information, see:
Artesa Sonoma forest-to-vineyard conversion


CAL FIRE has approved the Environmental Impact Report (EIR) for Artesa Winery's controversial plan to clear-cut 154 acres of coastal redwood forest to plant a vineyard in Annapolis. The EIR claims that the project will have no significant environmental or cultural impacts.
Codorníu contra las secuoyas de California


Puede que de forma ingenua el vino se asocie al amor por la tierra y al entendimiento con la naturaleza… Lo que no aparece en tu mente, desde luego, son imágenes de motosierras talando árboles y excavadoras arrancando sus raíces para plantar viñedos.
November, 2013, El Huffington Post (Spain)
---