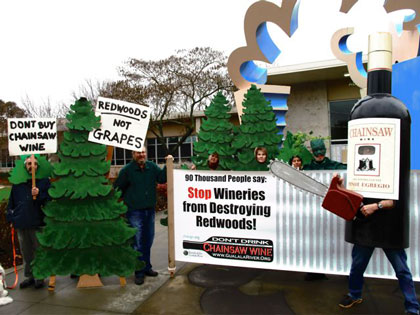 Environmental groups are fighting to stop the leveling of 154 acres of coast redwoods and Douglas firs to make way for grapevines.
[excerpt:]
In the California wine mecca of Sonoma County, climate change is pitting redwood lovers against red wine lovers.
This Friday morning, a coalition of environmental groups are in a Santa Rosa, Calif., courtroom fighting to stop a Spanish-owned winery from leveling 154 acres of coast redwoods and Douglas firs to make way for grapevines.
. . .
Redwoods are considered among the most spectacular of all trees. The biggest trees on Earth by height, redwoods can stand more than 350 feet tall. Some are more than 2,000 years old.
However, the redwoods at the center of this conflict are not old-growth trees. The area was clear-cut more than 50 years ago, and most of the redwoods on the site are less than 100 feet tall. Which is why Sam Singer argues: "There are no forests [on this site]."
Singer is a spokesman for Artesa Vineyards and Winery, which is owned by the Spanish Codorniu Group and which first proposed the development project in 2001. Singer says that the two old-growth redwood trees on the property will be spared.
But the thousands of trees slated for removal are between 50 and 80 feet tall, according to Poehlmann. He says the trees provide wildlife habitat and stabilize the soil against erosion, which has been a major problem for streams in the area that once harbored runs of salmon and steelhead trout.
. . .
---
For additional information, see:
Artesa Sonoma forest-to-vineyard conversion


CAL FIRE has approved the Environmental Impact Report (EIR) for Artesa Winery's controversial plan to clear-cut 154 acres of coastal redwood forest to plant a vineyard in Annapolis. The EIR claims that the project will have no significant environmental or cultural impacts.