"Peggy's Place"
February 9, 2012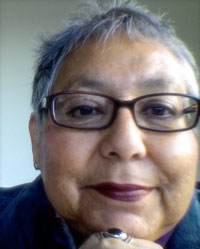 Peggy Berryhill
KGUA 88.3 FM is a full-powered non-commercial radio station established to educate, entertain and inform. KGUA 88.3 FM will give voice to the people and issues that affect all the coastal residents of the southern tip of Mendocino County and the Northern tip of Sonoma County.
KGUA is operated by the Native Media Resource Center, which was founded in 1997 by Muscogee Tribal member and award winning radio producer Peggy Berryhill. Peggy has been involved with public broadcasting for 38 years. Other founding members are Susan Ruschmeyer, and the late Chris Carty (Aleut). The non-profit organization was formed to create content about Native Americans and to promote racial harmony and cross-cultural understanding.
See also . . .
Peggy's follow-up interview with FoGR in September, 2012.
---
Home | About FoGR | Get Involved | Photo Tour

River Facts | Forestry | Vineyards | Water Export