Video: Presentation by Annapolis naturalist and artist, Liam Ericson, with photographic slides and woodblock prints of his explorations of the eastern portion of the Gualala River watershed.
Wandering up steep slopes and distant canyons, Liam discovered and photographed hidden groves of old growth redwoods, giant oaks, yews, and other trees as well as many species of wildlife. He will focus on the ecology of the area as well as some of the history of the Pomo there.
This remote, largely inaccessible area covers 19,645 acres of forest, grassland, and riparian corridor which provide habitat for countless species of plants and wildlife. Buckeye Forest, formerly known as Preservation Ranch, was slated for a mega development of mansions and vineyards. FoGR fought to protect the land, and in 2013 the property was purchased by The Conservation Fund, a non-profit organization dedicated to sustainable management of its forests.
Documenting the plants and wildlife that inhabit this remarkable land is a driving passion for Liam and a source of inspiration for his art.
This presentation was hosted by Friends of Gualala River's (FoGR) Education and Outreach Committee on June 7, 2020.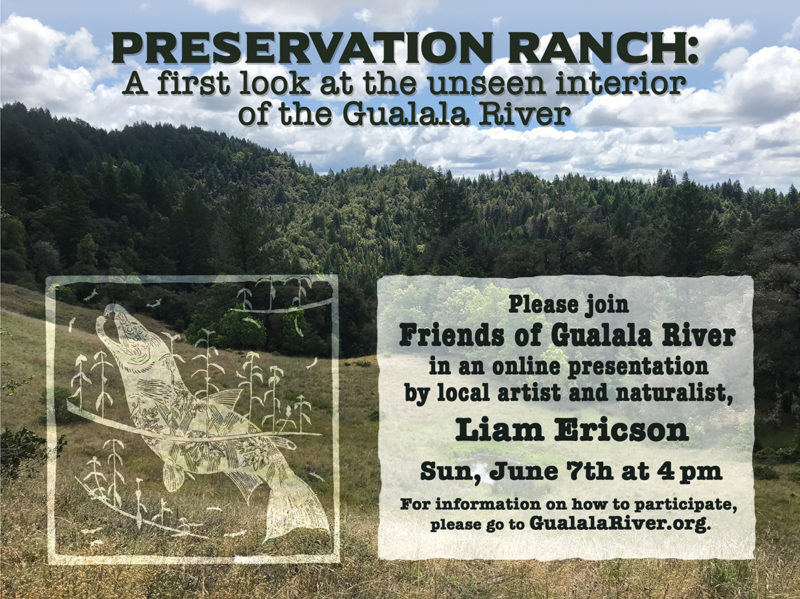 Q and A:
Questions from participants during the Zoom presentation, with answers by presenter Liam Ericson and FoGR.

Is kayaking or hiking along the Gualala River considered trespassing?
Kayaking is permissible. Hiking above the river bank is not permissible on private land. Please see our recreation page for more information. For more detailed information about public ownership of the river itself, please see Public Trust Policy.
What is the distinction on the map between green Buckeye Forest and the yellow conservation easement?
The yellow area refers to all lands covered under a conservation easement. Green areas are not part of the conservation easement, but sensitive resources that lie within them can still be protected. For more detailed information, please contact The Conservation Fund: Holly Newberger, North Coast Program Coordinator, hnewberger@conservationfund.org, 707-962-0712.
Have there been fires in Preservation Ranch, and what impact have the fires had on the trees and vegetation if there were fires?
There have been many fires historically, Pomo and most tribes of California were burning all the time. In our area, during late summer. Sometimes setting fire to a grassland and letting it burn to the forest. With no invasive grasses at the time and more consistent burning, there wasn't as much fuel to do catastrophic damage. The effect on the vegetation was wide ranging, it selected for things like tarweeds and bulbs, reduced their competition by burning away non-fire-tolerant plants. Added to the nutrients of the soil. Burned impassable brush like Chamise away, allowing for freedom of movement and easier hunting.
Has there been any evidence of Sudden Oak Death disease anywhere on the property?
Yes, it is wide spread, there are still some old growth Tan Oaks left. It's definitely a curse and a blessing, we have lost some mature forest.
The short dark arrowhead looked like obsidian. Would that be local? More likely brought in from volcanic areas?

All examples of points in my slides are obsidian. Tribes in our area had multiple trading routes with both adjacent tribes and with distant relatives to the east, near Clear Lake.
Would love your social media info, to be able to see your ongoing shares?
How can the public access any of this land?
Outside of Soda Springs, which shows you part of Buckeye Forest, access is largely unavailable. Most of the roads have downed trees or landslides that make it impassable. The few decent access points are through private roads.
When you see an older redwood with a 12 foot diameter, can you guess at the age of the tree?
We can infer the age, redwood takes forever to decay, so we still have relic stumps from the late 1800s cuts, 1960s, and 1990s. This allows us to look at the average age range for the various sized stumps we come across. We are in dry forest, so 4-6ft wide trees are on average 300-700 years old. So you can get a ball park estimate when looking at these 12 foot diameter trees.
I'm glad to hear your skepticism of the "fire-safe" clearance of forests.
Well, I think people have a fear of downed woody debris for fire safety and for a perimeter around a house, its reasonable. However, when you get into wild lands, leaving woody debris hosts a lot of insect diversity and on top of that, birds and lizards that prey on the insects that land on these fallen trees — it's a great observable foodchain. You're also letting rotting wood become part of a soil layer.
Safety. What, if any, plans for forest management on the Buckeye Forest can you discuss?
There are no management plans to my knowledge, I do believe they will be planning timber harvests as to pay off the purchase. I will be submitting a report of areas I think should be left untouched for both ecological or historical reasons.
What sort of management, if any, is taking place?
The Conservation Fund manages the land under its Buckeye Forest Integrated Resource Management Plan, a highly detailed document.  However, an Executive Summary is available as part of that plan.
For more information:
Those wanting the photographs with notes attached can contact Liam Ericson at canehowlet@gmail.com
FoGR wishes to thank the following:
Speaker, naturalist, and artist Liam Ericson for sharing his experiences, photographs, and woodblock prints of the Preservation Ranch;
Dr. Peter Baye, coastal ecologist, botanist, and former Board member of FoGR for curating the questions;
Karl Danskin, technical advisor for zoom platform, large meeting designer with Covision consultancy;
Birdsong Clinic at the Sea Ranch for the use of their studio;
Sandra Taylor, graphic design artist, for creating the flyer and newspaper ad for the presentation;
Robin and Ethan Applegarth for editing the video.