Jeanne Jackson / Mendonoma Sightings
and
Friends of the Gualala River
present
Gualala River Sightings
March 7, 2013
Gualala Arts Center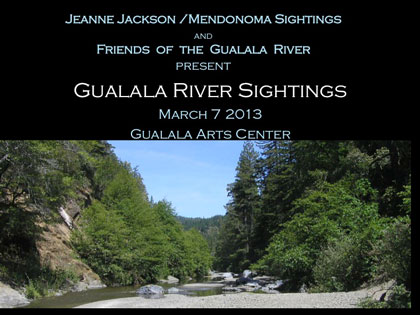 About 90 people attended the celebration of the Gualala River and its wildlife and watershed on March 7, 2013 at the Gualala Arts Center; the presentation was very warmly received.
Many of the photographers were present to speak about their photos. Some photographers read poems aloud; others shared personal or esthetic experiences. There were audible spontaneous sounds of appreciation from the audience in response to many photos.
The Gualala River mouth was the most frequent perspective. Jeanne Jackson commented that this was due in part to the beloved view, but in part to the limited public access to the River. She made a strong appeal to expand a River Park all the way to Twin Bridges, citing the old Sonoma County plan. She added that she would like to start a campaign to lobby Sonoma County Supervisor Efren Carrillo to pursue river park expansion. The audience applauded.
The audience responded positively to the idea of making this an annual event.
"Best of" Categories
(click to enlarge)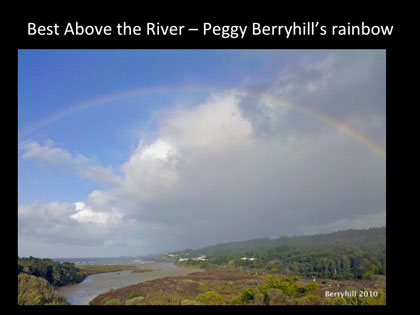 Best Above the River:
Peggy Berryhill's rainbow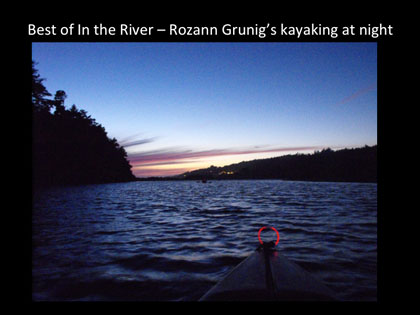 Best of In the River:
Rozann Grunig's kayaking at night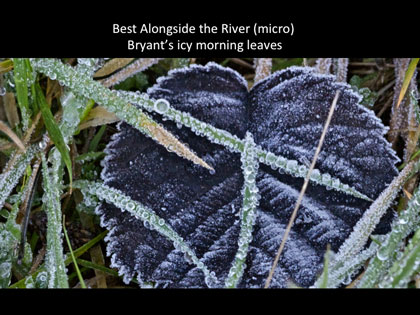 Best Alongside the River (micro):
Bryant Hichwa's icy morning leaves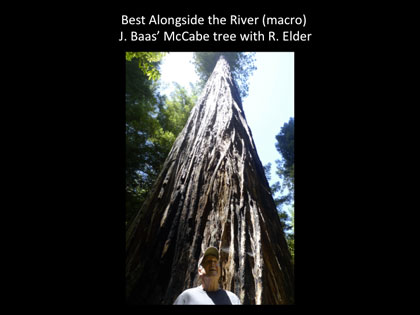 Best Alongside the River (macro):
Jacquelynn Baas' McCabe tree with Rob Elder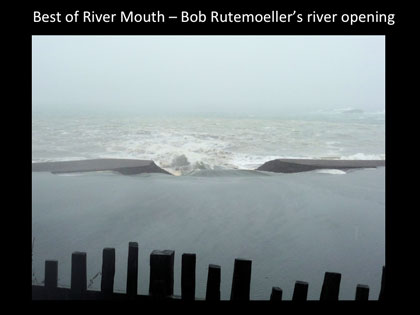 Best of River Mouth:
Bob Rutemoeller's river opening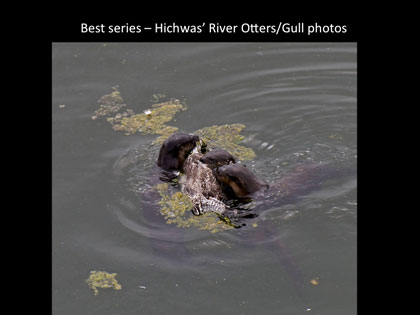 Best Series:
Diane Hichwa's River Otter / Gull photos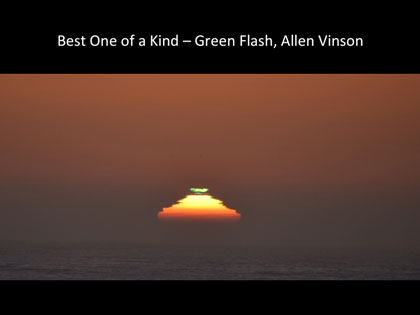 Best One of a Kind:
Allen Vinson's Green Flash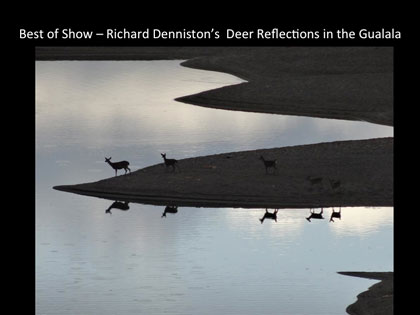 Best of Show:
Richard Dennison's Deer Reflections in the Gualala
All photos used with permission.
Our sincere thanks to all of the photographers
for sharing their photos with us!
Jeanne Jackson is the author of the very popular "Mendonoma Sightings" column in the weekly Independent Coast Observer, as well as the Mendonoma Sightings blog.