SACRAMENTO – Governor Arnold Schwarzenegger signed legislation today authored by Senator Wesley Chesbro (D, Arcata) to strengthen the environmental protections for California's Wild & Scenic Rivers. The bill, SB 904, enjoyed bi-partisan support in the California Legislature before it was sent to the Governor's desk for his signature.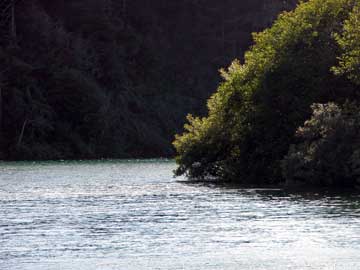 Wild & Scenic Gualala River, estuary
photo credit: PT Nunn, 2004
Senator Chesbro was pleased with the signing of the bill, stating, "California's North Coast region has many of this state's most outstanding rivers. The Governor's signature ensures that the extraordinary values of our state designated rivers are protected for future generations."
SB 904 clarifies the California Wild & Scenic Rivers Act to ensure that state agencies must protect state-designated rivers in the course of their normal regulatory duties and other activities. The bill also provides the same level of visual quality protection along Recreational Rivers as is currently provided for Scenic and Wild Rivers under the California Forest Practice Rules.

Steve Evans, Conservation Director for Friends of the River, applauded the legislation and voiced appreciation for the Governor's signature. "California's Wild and Scenic Rivers are true gems and represent part of our shared wild heritage," he said. "The Governor and the Legislature recognized that this simple bill makes the state a better steward of its rivers. Senator Chesbro deserves a huge thanks for introducing the bill."
The protective provisions of the bill apply to approximately 1,800 miles of state designated rivers in the California Wild & Scenic Rivers System, including segments of the Smith, Klamath, Scott, Salmon, Trinity, Van Duzen, Eel, Gualala, Albion, American, South Yuba, East Carson, and West Walker rivers.
Tom Cochrane, President of Friends of the Gualala River (FoGR), was pleased by the bill's passage and grateful for the legislative support for the Gualala and other important North Coast rivers from Senator Chesbro and Assemblyperson Patty Berg. He said, "SB 904 makes all state agencies responsible for protecting our river. The bill helps ensure that industrial schemes such as the infamous waterbags will not happen here."
Friends of the River is California's statewide river conservation group and was the primary sponsor of SB 904. The bill was supported by a wide range of river conservation groups, including the local advocacy group, Friends of the Gualala River (FoGR).
---
Governor signs bill protecting the Gualala River
July 2003: Gov. Davis signs bill designating the lower reach of the Gualala as a protected "recreational" river included in the California Wild & Scenic River system.
Diverting water from a Wild & Scenic River?
October 2007: Mendocino County studies a plan to divert water from the Wild & Scenic Eel River. If they succeed, the Wild & Scenic Gualala River would also be threatened.