Federal Agency Cancels Permits to Study Wave Energy on the Sonoma Coast
The Federal Energy Regulatory Commission (FERC) has canceled permits issued to the Sonoma County Water Agency (SCWA) to study power generation from wave energy at three coastal sites on the Sonoma coast.
SCWA was unable to raise the millions of dollars needed to study the sites, including one offshore of Gualala and the Sea Ranch, which led FERC to withdraw the permits issued in 2009 (see below).
---
Federal Agency Accepts Sonoma County
Wave Energy Applications
Sonoma County Water Agency
Press Release
April 16, 2009

Santa Rosa, CA – The Federal Energy Regulatory Commission (FERC) announced this month that the Commission has accepted three preliminary permit applications submitted by the Sonoma County Water Agency for investigation of wave energy projects off the Sonoma Coast. The applications cover three offshore areas deemed to have significant potential for wave energy production. Terms of the permits would allow the Sonoma County Water Agency to study the feasibility of developing 2 to 5 megawatts (MW) of wave power at each location and to assess the potential for expansion to over 40 MW at each of the three sites.
Sonoma County Water Agency (Agency) initiated wave energy studies in 2001 as a part of the Agency's program to procure all of its electric power from renewable sources. The Agency has a plan to produce "Carbon Free Water", that is, water produced and delivered to customers with no greenhouse gas emissions.
"The Agency requires up to 60 million kilowatts of power per year to provide water to homes and businesses in Sonoma and Marin Counties," said Agency Board Chairman Paul Kelley. "Meeting our power needs from local renewable sources could allow us to keep our energy dollars and energy jobs right here in Sonoma County."
"Wave energy has the potential to meet a significant share of Sonoma County's energy needs and help us meet our climate protection goals," said Sonoma County Supervisor Efren Carrillo. "I will also be asking questions about how the proposed projects would assure the preservation and protection of the Sonoma Coast and its wealth of marine life and resources."
The locations selected for the permit applications include three ten- to fifteen-square mile areas along the coast north of the Russian River Estuary, each extending from one half mile to about 3 miles offshore (see attached map). The Agency worked with a coalition of interest groups to select these locations based on their avoidance of Marine Life Protection Areas, known fishing and crabbing areas, and other sensitive areas. Approval of the permit application would give the Agency the priority to file a license application for development of the wave energy resources in these areas during the permit term.
"We're intrigued by wave energy generation as 'green' replacement power to enable removal of antiquated, fish-killing hydro dams," commented Zeke Grader, Executive Director of the Pacific Coast Federation of Fishermen's Associations. "But these offshore facilities must be carefully placed so as not to obstruct fishing, shipping and recreation. That's why it's so important local government take the lead and not leave wave energy development to the whims of power companies. We're pleased that FERC has accepted Sonoma County's application. It's critical that public agencies answerable to the public be in the lead on this development to assure all interests, particularly fishing, are considered."
"Approval of the permits would allow the Agency to fully evaluate the hydrokinetic power potential and potential environmental impacts from the project before applying for a license to initiate wave energy facilities," said Cordel Stillman, Agency Capital Projects Manager and head of the Agency's climate protection programs. Stillman estimates that about $1.75 million in grant funding and Agency funds will be required to complete the feasibility studies.
Acceptance of the permit applications by FERC on April 3, 2009 initiates a 60 day comment period during which citizens and other entities have an opportunity to intervene in the process. Information on how to participate is available from the FERC website.
"Del Mar Landing"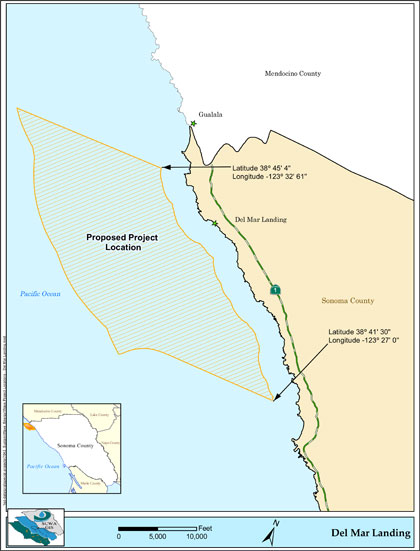 click to enlarge
Sonoma County coast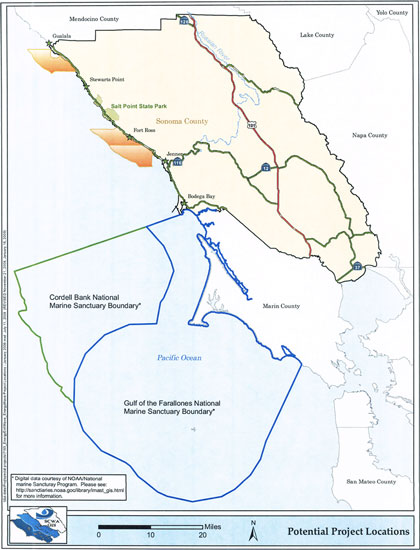 click to enlarge