It is human nature to take what is around us without paying special attention unless some aspect seems awry. Such is the case with the Gualala River estuary as well as the watershed area that extends up the river far out of sight of most of those who routinely enter and leave Gualala over the bridge. Yet the entire watershed area must be protected, and here we learn of FoGR's outreach effort to bring greater awareness of the reach of the fragile environment of the Gualala River.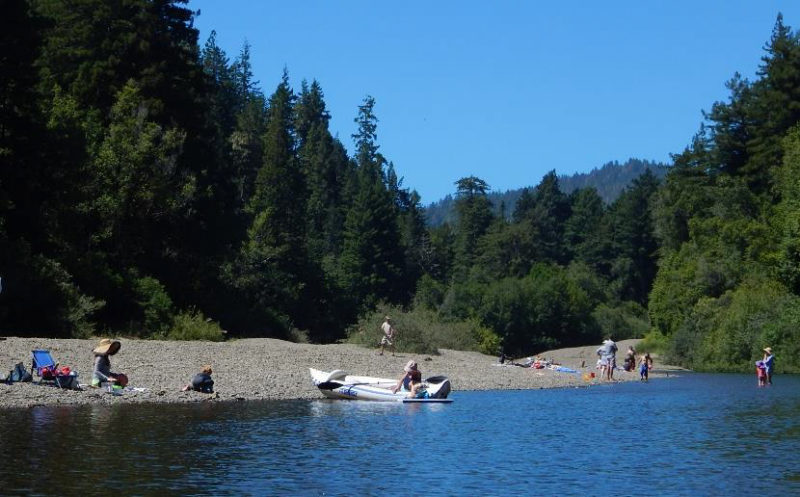 The Gualala River is the heart of the watershed that bears its name. The river is treasured by local community members and visitors alike. Many of us enjoy paddling on the river, walking nearby trails, watching for birds and wildlife, and waiting for the moment when the river breaches the sandbar in the fall. But beyond the highly visible Gualala River estuary and accessible stretch of river up to the Green Bridge, there is the less familiar and remarkable 300 square mile watershed. Many of us are not aware that the watershed is a fragile environment that continues to face many threats to the endangered fish and wildlife, diverse forests, and rare plants within it.
As part of its ongoing efforts to improve the health of the Gualala River watershed, Friends of Gualala River (FoGR) is embarking on a project to increase public awareness of the watershed and the role we all have in protecting it. FoGR's Outreach and Education Subcommittee spent much of 2018 planning the Gualala River Watershed Awareness and Protection Project and recently applied for a grant to help fund the effort. The proposed project, if funded, will be launched in the spring of 2019. In the project's initial phase, nine "Entering the Gualala River Watershed" signs will be installed in Sonoma and Mendocino counties. A community education campaign will be rolled out as the signs are installed to boost stewardship of the watershed and enlist the public's support in its recovery.
FoGR expects to learn by the end of December, 2018 if its grant application will be funded. The grant, if awarded, will cover about half the cost of the project, so additional funds will be needed to fully implement the effort. Please consider making a donation to help fund the project. FoGR is committed to implementing the project and the Outreach and Education Subcommittee will seek alternative funding sources if it does not receive the grant award. Stay tuned for an update from FoGR about the project in early 2019.
If this type of project interests you, and you would like to explore how you could volunteer to assist the Outreach and Education Subcommittee, please contact Lynn Walton at llynnwalton@gmail.com.