Friends of the Gualala River is astonished to learn that NOAA (National Oceanic and Atmospheric Administration), the federal agency responsible for the recovery of coho salmon and steelhead, is PROPOSING TO REMOVE THE GUALALA RIVER ESTUARY (our beautiful lagoon from the beach upstream through the regional park) from the Marine Sanctuary. Incredibly, they are proposing the same for the Russian River and Garcia River estuaries as well.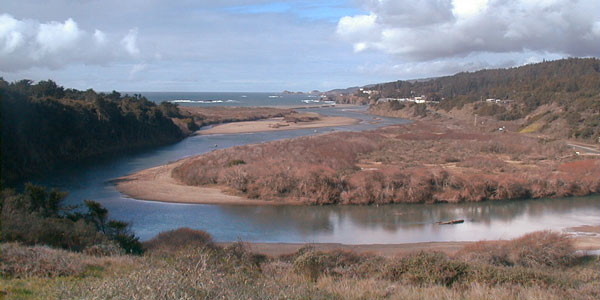 These seasonal estuaries are the most critically important rearing areas for juvenile steelhead (and coho salmon, when present), where they fatten and grow to larger sizes that allow them to survive at high rates when they migrate out to sea. NOAA must know this, because NOAA scientists (National Marine Fisheries Services) conducted much of the research on it, and put it in their recovery plans for salmonids! This makes NOAA's proposed elimination of our Sonoma-Mendocino Coast estuaries from the Marine Sanctuary all the more incredible and outrageous. It is completely unacceptable.
The origins of this unacceptable and self-contradictory proposal, we believe, are not scientific, but political. The proposal is harmful to chances for successful recovery of steelhead and coho, and to the integrity of the Sanctuary and its future..
FoGR rarely sends email alerts or calls to urgent action. We would not ask you to act unless it was critically important, and this is. We urge you, please, to ATTEND PUBLIC MEETINGS held by NOAA in Point Arena, Gualala, and Bodega Bay next week, and speak out with conviction to:
DEFEND THE ORIGINAL WOOLSEY-BOXER MARINE SANCTUARY BOUNDARIES, AND RETAIN THE GUALALA RIVER ESTUARY and all other North Coast seasonal river estuaries in the Sanctuary; and
OPPOSE THE PROPOSALS TO ALLOW SANCTUARY MANAGERS TO MAKE POLITICAL LOOPHOLES FOR ACTIVITIES THE SANCTUARY NOW PROHIBITS – like waterbags for river water export, offshore fish farms, sewer or oil and gas pipelines, or other construction projects on the Sanctuary seabed.
This is a step on the slippery slope for future Marine Sanctuary loophole amendments that might allow FRACKING of the oil-rich offshore mining leases offshore of Point Arena that were withdrawn in the 1980s, but which fracking technology now make economically viable.
For more information, visit the Ocean Institute's excellent guidebook to the draft Environmental Impact Statement at http://SanctuaryExpansion.org
Monday, June 16, 2014
Point Arena City Hall, 6 pm
451 School St., Point Arena, CA 95468
Tuesday, June 17, 2014
Gualala Community Center, 6 pm
47950 Center St., Gualala, CA 95445
Wednesday, June 18, 2014
Grange Hall, 6 pm
1370 Bodega Ave., Bodega Bay, CA 94923