12/31/2005   Britt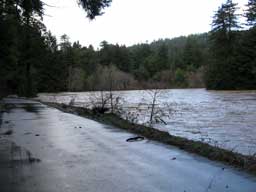 "In the hours after we received our second significant storm of the '05/'06 winter, I made my way to the main stem of the Gualala River to photograph the full and flooding river in conjunction with the 6.9 foot high tide.
I first attempted to reach the green bridge where the North Forks join the main stem. The Gualala Campground was completely underwater with the roofs of the buildings peeking out towards the sky.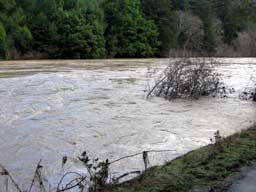 The riparian areas of the river were also completely underwater. All I could think to myself as I unsuccessfully approached the green bridge was "this is impressive."
I have never seen the river flowing with such power and looking so muddy in the 12 years I have lived in the area. Large trees and branches were readily moving past me as if they were mere twigs. And, the Gualala looked like the chocolate river from the world of Willy Wonka.As I made my way towards the Gualala Point to photograph the estuary I noticed an inordinate amount of gulls seemingly playing in the frenzy of the river. The estuary was broad and the mouth was the widest I have ever seen it.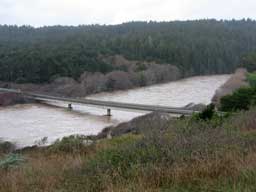 Looking back towards the Gualala Bridge I had just crossed I noticed the north side of the bridge was nearing its clearance capacity. I chuckled to myself.Had Davidge been successful in schlepping our water to San Diego, he would be marketing an awful lot of our mud and sediment too."