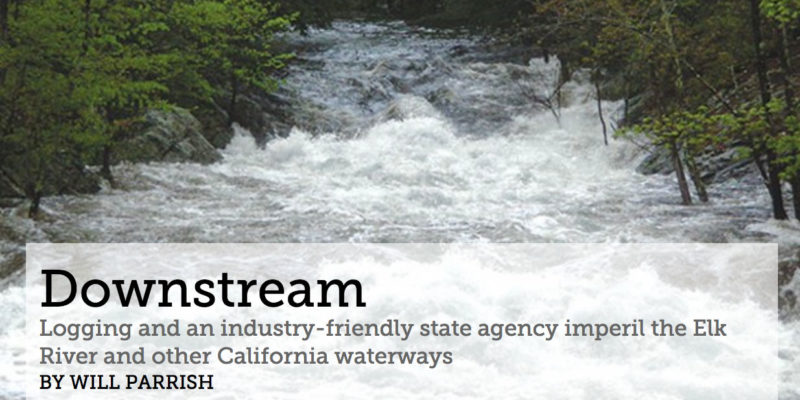 by Will Parrish, North Bay Bohemian, February 15, 2017
[excerpt:]
Here in the North Bay, a controversy over timber industry damage to the Gualala River in northwestern Sonoma and southeastern Mendocino counties has been raging since 2015. First came the Dogwood plan, a 320-acre timber harvest plan filed by Gualala Redwoods Timber company (GRT). It involves tractor-logging hundreds of stately, second-growth redwoods that line the lower Gualala River, in areas spared from axes and chainsaws for a century or more.
Next was the German South plan that GRT filed last September, which looks to harvest an additional 96 acres of floodplain redwoods, in an area immediately adjacent to Dogwood, and clear-cutting 85 acres directly upslope. In September came GRT's Plum plan, which involves felling floodplain redwoods along the Gualala's north fork in Mendocino County.
According to environmentalists, these unique floodplain redwood groves serve as a thin green line against further severe damage to endangered and threatened species of salmon and trout, which feed, rear, shelter and migrate in them. Environmental groups—including Forest Unlimited, Friends of the Gualala River, and the California Native Plant Society—successfully sued to halt the Dogwood plan, though the others are going forward as of this writing. They say that Cal Fire and other agencies have failed to require rudimentary surveys of endangered and threatened plant and animals species in approving these logging proposals.
"Cal Fire is handing over the Gualala River's floodplain on a silver platter to the timber industry," says Jeanne Jackson, a nature columnist for the Independent Coast Observer. Gualala Redwoods Timber argues that it is only cutting these forests selectively and leaving riparian buffers, in compliance with state regulations designed to protect streams.
. . .
---
To read the entire article, visit the North Bay Bohemian: Downstream: Logging and an industry-friendly state agency imperil the Elk River and other California waterways