October, 2009
Friends of the Gualala River (FoGR) has embarked on a drive to raise $35,000 to engage scientific and legal experts in its efforts to preserve the quantity and quality of water in the Gualala River. The fund-raising has received a welcome boost with the award of a $5,000 grant from the Rose Foundation.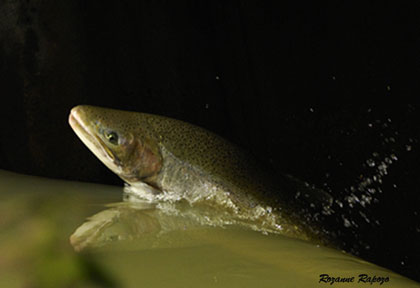 photo by Rozanne Rapozo
Much of FoGR's attention is on various plans for the conversion of redwood forests and oak woodlands to vineyards. Many experts believe such conversions, individually and cumulatively, do significant ecological damage and threaten both the quality of the water flowing in the lower Gualala River and the quantity available for human consumption and preservation of threatened fish and other wildlife species.
Each conversion project in the Gualala River watershed – whether enormous like the 1,601 acre Preservation Ranch conversions, large like the 170 acre Artesa conversion, or as small as conversions of a few acres – is unique and requires expert study to understand its environmental ramifications. FoGR's funds will pay for the independent expert studies needed to check the validity of environmental claims made by the applicants for conversion projects.
The Rose Foundation is an Oakland-based foundation that supports grassroots initiatives to inspire community action to protect the environment, consumers, and the public health. FoGR's grant is one of 17 announced on September 30 from the Rose Foundation's Northern California Environmental Grassroots Fund. For more about the Rose Foundation, see www.rosefdn.org.
FoGR is a non-profit grassroots watershed protection association formed to share common concerns and research regarding the welfare of the Gualala River, its estuary, and habitat. FoGR's goal is to protect the Gualala River watershed and species that rely on it. For more about FoGR or to donate (to FoGR's Experts Fund), see www.GualalaRiver.org.
---