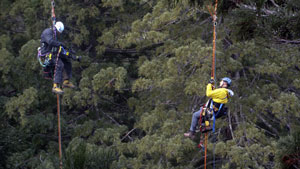 National Geographic EXPLORER
Tuesday, September 29 at 10:00 p.m.
on the National Geographic Channel
"Climbing Redwood Giants" tells the story of the world's tallest living trees.
Humboldt State University's Steve Sillett, the first researcher to explore the redwood canopy, is obsessed with monster redwoods. To say Sillett likes redwoods is like saying Edmund Hillary was keen on mountains or Jacques Cousteau had a fondness for the sea. Just when Steve Sillett thinks hes climbed and measured an unbeatably tall tree, another one turns up in a hidden valley of California and breaks the record.
As Sillett investigates redwoods up in their towering crowns, National Geographic Explorer-in-Residence Mike Fay is charting the entire redwood range on the ground, step by step, on an epic year-long journey to get a sense of the past… and future of the world's most awe-inspiring living things.
Tune in!
Tuesday, September 29, 2009 at 10:00 p.m.
Read more on the
National Georgaphic channel website.
AND… Check out the
National Georgaphic magazine
October, 2009 issue,
Redwoods: The Super Trees.
---