Excerpt from press release by Sonoma County Ag + Open Space
Wild and Scenic Gloeckner-Turner Ranch to be Protected Forever
3,364-acre ranch boasts significant natural resources and scenic values, offers climate change resilience
SANTA ROSA, CA (May 29, 2020) – Sonoma County Ag + Open Space is pleased to announce the upcoming conservation of Gloeckner-Turner Ranch – a sprawling 3,364-acre property along Rockpile Road near Lake Sonoma – through the purchase of a conservation easement from the Gloeckner-Turner family. The ranch, which has been in the family for decades, is now protected forever from development thanks to combined contributions from the family itself, Ag + Open Space, Sonoma Land Trust, Sonoma Water, and the Gordon and Betty Moore Foundation. . . .
The easement will preserve a highly visible scenic corridor, as well as the property's diverse habitats that include Oregon white oak and mixed hardwood forest, chaparral, Douglas fir and redwood forest, riparian woodlands, grasslands, and the Wheatfield Fork of the Gualala River. . . .
In addition to the numerous springs and waterfalls scattered throughout the ranch, the headwaters of the Wheatfield Fork of the Gualala River run northwest 2.1 miles through the property, and 3.6 miles of the headwaters of Rancheria Creek run south into Lake Sonoma. The Gualala River is an anadromous stream with threatened steelhead trout and Lake Sonoma supplies drinking water to cities and towns throughout Sonoma County. . . .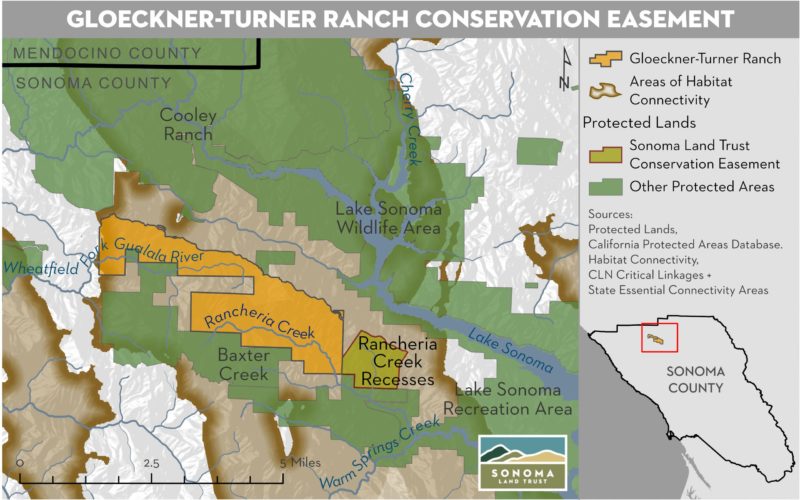 ---
To read the entire press release, visit Sonoma County Agricultural Preservation and Open Space District:
Wild and Scenic Gloeckner-Turner Ranch to be Protected Forever
For more information, visit: