Dear Friends and Neighbors,
I'm writing to ask you to join our effort to protect the Gualala River and its wildlife by making a generous donation to Friends of the Gualala River (FoGR). Unfortunately, right now our watershed is facing imminent threats from several large-scale developments (details below). FoGR has assembled a scientific and legal team that is ready to do what is needed to protect the river and watershed, but we can only set our plan in action with your immediate support.
WHO ARE WE?
FoGR is your local grassroots organization that uses applied science, public education and environmental regulation to protect the Gualala River and its watershed. No one else does our job of active advocacy for protection of the Gualala River.
We live in the watershed and know what is happening on the ground. We work with other organizations from outside our area, but we are literally at the forefront of river conservation and watchdog action in this remote part of the North Coast… from the headwaters to the mouth of the river.
(Note: We are not related to the Gualala River Watershed Council (GWRC), a group of "stakeholders" with heavy representation by large landowners in the timber and vineyard industries.)
WHAT ARE WE WORKING ON?
Current threats from forest-to-vineyard conversion of the Gualala River watershed include:
Artesa (Fairfax), Annapolis – Under pressure from FoGR during the public comment period of the initial Timber Conversion Plan, the California Department of Forestry conceded that an Environmental Impact Report (EIR) was needed for this conversion of more than 100 acres, and held a public scoping session in September 2004. FoGR coordinated overwhelming public turnout and helped to expose serious threats and impacts to the river that squarely set the burden for the EIR's environmental analysis where it should be – on the shoulders of the would-be vineyard conversion proponents.

Artesa finally released their Draft EIR at the end of May, 2009. The report is deeply flawed and disingenuous – it claims that all environmental impacts of their project will be "less than significant." With your support we will hire scientific experts to document the flaws, so that the final EIR will accurately disclose the environmental harm this project would cause.

Preservation Ranch – This deceptively named project is the largest proposed conversion of coastal forestland to vineyards ever in California. This conversion of over 1600 acres is located in a remote area of continuous forest in the heart of the Gualala River watershed, where no diversions, dams, or chronic sources of agricultural pesticides and sediment now exist. If constructed, it will fragment forests and embed the river in a matrix of intensive agriculture and new water demand during a period of abrupt climate change. FoGR is again taking a leading role as a watchdog of the public environmental review process, sifting through the mountain of project documents and making information accessible to the public, allied environmental organizations and experts alike. Your donations are needed more than ever to support our strategic coordination of incisive scientific and legal review of the permit process.
AND MORE…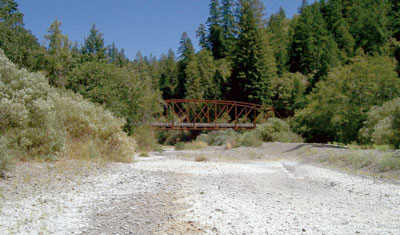 FoGR detected and reported
unprecedented dewatering of the Gualala River!
Where did the water go?
FoGR documented the first observed abrupt dewatering of the Wheatfield Fork last summer. Pools with steelhead, minnows and frogs living in water over three feet deep in June were dead and dry by September in river reaches below new vineyards. This is the first indication of potential impacts of intensive agriculture on river and creek flows. In 2008, a year of near-average rainfall for our region, FoGR was alone among environmental organizations in detecting, documenting and reporting the river's sudden and devastating dewatering. We were alone in initiating contacts with resource agencies and CEQA lead agencies responsible for evaluating water diversion impacts of proposed additional vineyards.
FoGR's local river "watchdog" role is unique, and was made possible because of your donations. We urgently need your help to pay for essential scientific expertise to analyze river dewatering patterns in 2009. No other organizations or agencies are currently pursuing this.
WHAT HAVE WE RECENTLY ACCOMPLISHED?
FoGR won protections from unregulated conversion of forestland to vineyards –
For several years, reckless large-scale conversions of forestland to vineyards along the Wheatfield Fork of the Gualala River were proceeding with fast-track permits and minimal environmental review by the California Department of Forestry and Sonoma County. Conversion of forestland to vineyards suddenly became one of the major threats to instream-flows, water quality, and fish habitat in the Gualala River. Through strategic litigation, applied science, and hard work in the public comment process, FoGR set a new legal precedent for requiring full Environmental Impact Reports for all forest-to-vineyard conversions in the Gualala River watershed.
Thanks to your support of our legal and scientific consulting team, every forest-to-vineyard conversion in our watershed must now complete the detailed public environmental review that is required by law.
FoGR also won important safeguards against unregulated gravel mining –
After years of haphazard regulation and permit lapse by Sonoma County, FoGR finally prevailed in its multi-year drive to bring full state and federal environmental regulation and protection to instream gravel mining operations on the Gualala River. We advocated vigorously for the same federal regulation of gravel mining that is applied to the rest of the North Coast, and we got it. In summer 2008, the National Marine Fisheries Service and California Department of Fish and Game imposed standard monitoring and reporting conditions and restrictions on gravel mining extraction rates. Mining is now tightly linked to measured rates of natural gravel replenishment. Gravel mining continues today, but only when there is adequate gravel replenishment and monitoring reports meet permit conditions to protect fish habitat.
FoGR's campaign to make the only unregulated in-stream gravel mining operation on the North Coast more fish friendly was successful only because of your support!
WHAT DOES FoGR DO WITH YOUR SUPPORT?
FoGR hires scientific experts in hydrology and fish biology. FoGR applies sound science to the environmental regulatory process to protect the Gualala River. We hire key scientific experts to provide independent scientific scrutiny to actions that threaten the river, so valid environmental concerns cannot be dismissed by regulatory agencies under political pressure.
FoGR hires legal experts in environmental regulation. After building a strong administrative record filled with substantive, scientific testimony, FoGR pays for environmental attorneys to ensure that regulatory agencies follow environmental laws.
FoGR keeps the public and your government informed about the Gualala River. By sponsoring public meetings, we bring experts to the Gualala-Annapolis-Sea Ranch area to educate the public about the latest issues in river conservation, and natural history of the river and watershed. FoGR organizes and presents new ideas, scientific information, government documents, legal decisions, and posts related information on our website at: www.GualalaRiver.org
FoGR sponsors field trips and stewardship activities. FoGR, in partnership with allied conservation organizations like California Native Plant Society, leads well-attended field trips to the river's estuary/lagoon and riparian habitats to educate the public about vegetation, wildlife, and fish, as they relate to physical river processes. We present local public school presentations about the natural history of the river. In partnership with Sonoma County Regional Parks, we lead invasive plant removal activities ("weed bashes") in valuable coastal habitats at the mouth of the river.
Friends of the Gualala River grows stronger with each new member.
Please join us and help protect and preserve the incredible watershed that we have inherited. Your financial gift will make a real difference.
John Holland
President
Friends of the Gualala River
  – or –

Send a check and
membership form
to:
Friends of the Gualala River
P.O. Box 1543
Gualala, CA 95445
As an affiliate of the Redwood Coast Watersheds Alliance, a 501(c)(3) non-profit organization recognized by the IRS, donations to Friends of the Gualala River are tax-deductible.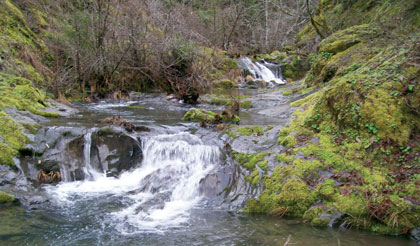 Thank You for being a FRIEND of the Gualala River!