[excerpt:]
Klamath, CA — A large land acquisition project was completed today on California's Redwood Coast to conserve habitat, restore water quality and reestablish indigenous territory along the lower Klamath River.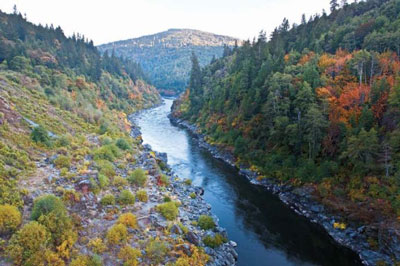 The Yurok Tribe, working with the nonprofit Western Rivers Conservancy, completed purchase of 22,237 acres from Green Diamond Resource Company in Humboldt County. The land, part of the Yurok's ancestral territory, will be sustainably managed for clean water and forest health.
"The Tribe has long sought the return of ancestral land to create a salmon sanctuary and restore tribal cultural management practices, which benefit fish, wildlife and the ecosystem as a whole," Yurok Tribal Chairman Thomas O'Rourke said.
"This is an historic accomplishment to ensure clean, cold water for the Klamath River's salmon runs while re-establishing a portion of the Yurok's homeland," said Phillip Wallin, President of Western Rivers Conservancy.
. . .
---
Home | About FoGR | Get Involved | Photo Tour

River Facts | Forestry | Vineyards | Water Export