Tongass is the world's largest intact temperate rainforest, with trees more than 1,000 years old. But a pro-logging effort could uproot them
by Brendan Jones in Sitka, Alaska
Published by The Guardian, March 22, 2018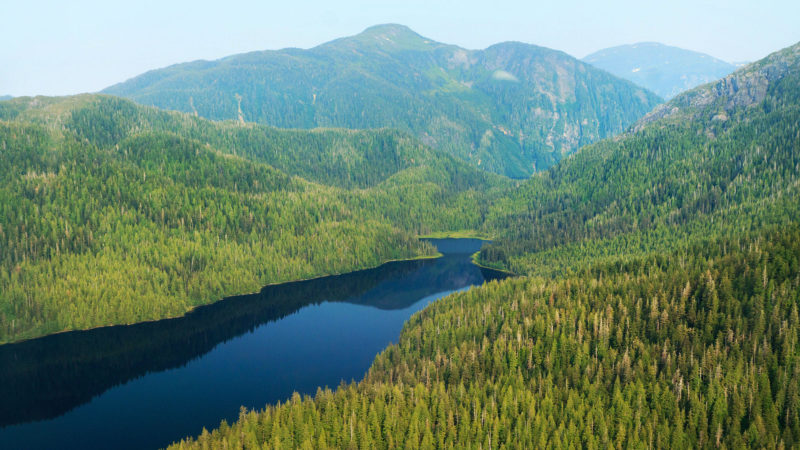 [Excerpt:]
At south-east Alaska's last industrial-scale sawmill, wheel loaders stack debarked logs two storeys high on the frozen ground. A bumper sticker on a battered Ford in the parking lot reads "Cut Kill Dig Drill", a mantra that many in the 49th state appreciate repeating.
Viking Lumber Company employs 34 people and sustains itself primarily on old-growth trees harvested from the Tongass, the largest intact temperate rainforest in the world. Many of them have been around longer than the United States – some for 1,000 years.
Under the Trump administration, the future of these ancient trees is uncertain. The Alaskan senator Lisa Murkowski is pushing for more old-growth logging, and has sought to attach pro-logging provisions to the omnibus bill on US government spending that is being negotiated this week in Congress. If such efforts are successful, the country stands at risk of losing some of its last remaining coniferous old growth in order to sustain south-east Alaska's last industrial-scale sawmill.
. . .
"Six decades of predatory logging has imperiled the ecosystem," said Larry Edwards, who first came to Alaska in 1976 to work as an engineer for a pulp mill. "The forest can't take any more."
Encompassing the majority of south-east Alaska's panhandle, the Tongass is made up of a dense network of islands inhabited continually for the past 10,000 years by Tlingit and Haida cultures, as well as more recent Russian and North American arrivals. Fog weaves itself among the treetops, giving the forest an otherwordly feel. The vast web of rock, ice and forest provides habitat for some of America's most emblematic creatures, including brown bear, moose and the largest concentration of nesting bald eagles in the world.
. . .
To read the complete article, visit The Guardian:
Trees older than America: a primeval Alaskan forest is at risk in the Trump era
See also:
Turning Back the Clock on Protecting Alaska's Wild Lands,
by Mike Dombeck, March 13, 2018 in The New York Times
For more information, visit:
Alaska Rainforest Defenders