The Wildlife Conservation Board (WCB) approved the proposed $19M conservation easement for the Gualala River Forest at its meeting on September 13, 2011 in Sacramento.
The easement will be held by The Conservation Fund, which already holds similar easements protecting large parcels in the nearby Garcia River, Big River & Salmon Creek watersheds and the Usal Redwood Forest.
The easement will permanently protect this working forestland from fragmentation and development. The forest will be managed in a protective way, with the goal of rehabilitation of over-logged lands to make them productive, to recover old growth type characteristics, and to recover and protect water quality and wildlife habitat values.
The WCB is a state agency whose primary purpose is to approve funding for wildlife habitat protection, restoration and wild-oriented public access projects. In this case, the funds are from Proposition 84, which was approved by voters in 2006.
Our sincere thanks to the many people who sent letters to the WCB in support of the easement, and to the Wildlife Conservation Board and The Conservation Fund for their on-going efforts to protect and preserve sustainable working forestland in northern California.
According to The Conservation Fund,
"Next door to our Garcia River Forest, the 14,000-acre Gualala River Forest shares its remarkable canopy of redwoods and Douglas firs. Beneath these magnificent trees, the Gualala River courses across the property, providing important spawning habitat for coho salmon and steelhead trout. But this land is vulnerable. At least five vineyards have erupted nearby, replacing Mendocino County forests that once sustained these fish, spotted owls or timber jobs. To protect the Gualala River Forest, we acquired a preservation agreement on the property in November, 2011, ensuring the land will be sustainably harvested to restore and maintain a healthy balance of trees, water quality and local jobs."
"It was helpful to have recent [FoGR-catalyzed] articles about the Preservation Ranch to underscore the threat to these lands."
– Chris Kelly, The Conservation Fund,
commenting on the WCB decision.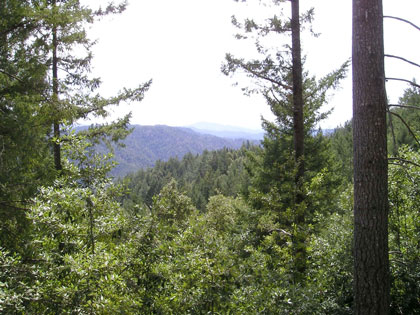 Gualala River Forest
Previous calls for letters to the WCB:
August, 2011
February, 2011
---
Home | About FoGR | Get Involved | Photo Tour

River Facts | Forestry | Vineyards | Water Export