by Mary Callahan, The Press Democrat, November 25, 2014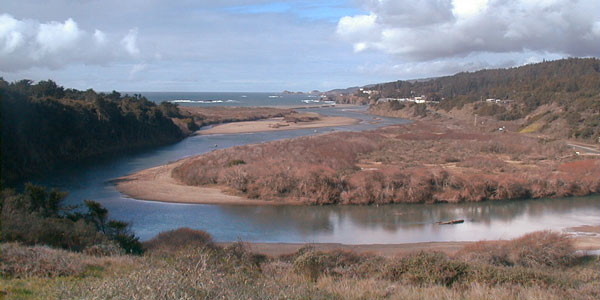 [excerpt:]
Nearly 30,000 acres timberland straddling the Sonoma-Mendocino county border and stretching across the mouth of the Gualala River have been put on the auction block, creating what conservationists are calling a prime opportunity for a landmark preservation deal that could permanently protect and restore a giant swath of forest, allow for potential park development and consolidate a protected area larger than Point Reyes National Seashore.
. . .
The GRI property wraps around the community of Gualala and the river estuary, just north of The Sea Ranch and Gualala Point Regional Park, and is about evenly split between Mendocino and Sonoma counties. It is the largest commercially held timber property left in Sonoma County.
It includes what Benson described as "significant stands of redwoods" along the river and an area identified at least as far back as 1955 as a desirable site for a major regional or state park, according to Sonoma County park records.
The potential for greater access to the river "is one of the things that's so exciting about this," Benson said.
Most access points currently are behind locked gates, said Chris Poehlmann, president of Friends of Gualala River, a nonprofit watershed protection group.
. . .
To read the entire article, visit the Press Democrat: Gualala Redwoods Inc. puts 30,000-acre property up for sale