Note: Close of public comment for this plan is Monday, September 12, 2016, at 5 p.m.
Cal Fire – Forest Practice Program Manager
135 Ridgeway Ave,
Santa Rosa, California 95401
santarosapubliccomments@calfire.ca.gov
September 8, 2016
SUBJECT: THP 1-16-047 SON (Gualala Redwoods Timber LLC "German South" THP)
Dear CAL FIRE:
Friends of the Gualala River submits the following comments and recommendations regarding the " German South" THP (1-16-047) Gualala Redwood Timber LLC (successors in interest to Gualala Redwoods Inc.) on, bordering, or affecting the lower Gualala River and tributaries, Sonoma and Mendocino County. The plan is sited in a flood prone area of redwood forest and further up steep erosion-prone slopes above the lower Gualala River and tributaries. This letter endorses and incorporates comments submitted by EPIC dated September 2, 2016 and submitted by Rob DiPerna from EPIC, the Environmental Protection Information Center, Arcata, California and comments by Roland Pesch submitted September 9, 2016. Also attached are comments from Stewart Siegel on the adjacent "Dogwood" 1-15-042 SON THP that shares identical potential impacts from operations in the flood plains as does 1-16-047SON.
Summary
The "German South" THP as proposed, and if implemented, will violate the California Forest Practice Act and Rules and the California Environmental Quality Act (CEQA), the Porter- Cologne Water Quality Control Act, and the federal Clean Water Act and the associated Total Maximum Daily Load (TMDL) in place for the Gualala River. The THP does not conform to the Forest Practice Rules and therefore must be denied pursuant to 14 CCR 898.2(c) & (h).
. . .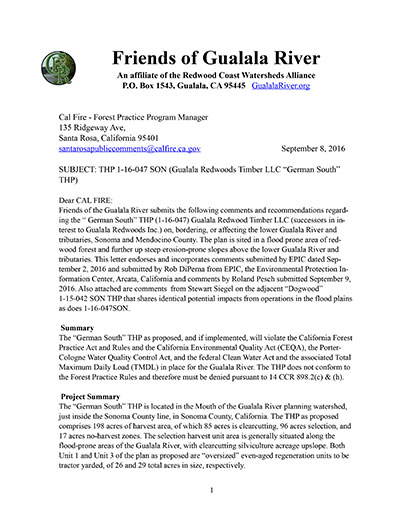 Read FoGR's complete comments on the "German South" logging plan.