Local News
Advice puts Eel River diversion plan on shelf


March, 2008: A recently revived proposal to divert water from a protected portion of the Eel River near Dos Rios has been quietly shelved following a negative legal opinion.
Diverting water from a Wild & Scenic River?
October, 2007: Mendocino County studies a plan to divert water from the Wild & Scenic Eel River. If they succeed, the Wild & Scenic Gualala River would also be threatened.
---
Bottled Water
Quick facts about bottled water versus
cleaning up the drinking water supply
Members of the United Nations estimate that if the world took half of what it currently spends on bottled water ($100 billion annually) and invested it in water infrastructure and treatment, everyone in the world could have access to clean drinking water.
But bottled water is cleaner, right? Actually, the U.S. EPA sets more stringent quality standards for tap water than the FDA does for bottled beverages, and roughly 40% of bottled water is actually just tap water.
1.5 billion barrels of oil are consumed each year to produce the plastic for water bottles, enough to fuel 100,000 cars.
According to the Container Recycling Institute, only 14 percent of plastic water bottles are recycled.
A water bottle in a landfill or lying around as litter will take over 1,000 years to biodegrade.
More info:
organicconsumers.org/foodsafety/Bottled020606.cfm
---
Waterbag Campaign
In 2002, Friends of the Gualala River played a leading role in opposing a scheme to export water from the Gualala River to southern California in giant floating plastic "waterbags."
See a detailed account of our successful campaign to prevent the harm the waterbag scheme would have caused to our river and our community.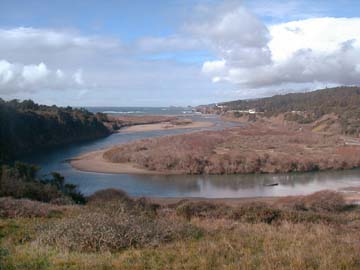 Gualala River estuary in winter
photo courtesy of P.T. Nunn, 2002
---