Tuesday-Wednesday, October 19-20, 2010
7:00 p.m. at the Arena Theater
Point Arena, CA
Friends of the Gualala River hosts the Wild and Scenic Environmental Film Festival On Tour at the Arena Theater on October 19th and 20th, at 7:00 p.m. both nights. This two-night event features the screening of nine award winning films and a brief presentation from Friends of the Gualala River who bring their activism and a human face to the festival and environmental movement.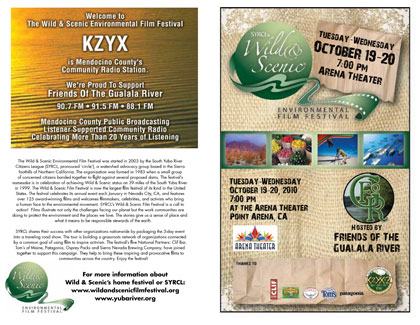 Download printable program – 348KB pdf

---
Tuesday, October 19 at 7:00 p.m.
The Good Life Parable
3 min.
Mark Albion and Free Range Studios A businessman and a fisherman on a small island. He tries to teach the fisherman about business but the fisherman teaches him about life.www.freerangestudios.com

---

Worse Than a Clearcut
4+20 min.
Redwood Chapter, Sierra Club The so-called "Preservation" Ranch is a proposed 19,300 acre development in the heart of the Gualala River watershed owned by Premier Pacific Vineyards (PPV). PPV plans to "preserve" their land by destroying 1,600+ acres of coastal redwood forest and converting it into vineyards.Following the 4 minute video, Friends of the Gualala River will host a 20 minute presentation and discussion.

---

The Story of Cap & Trade
10 min.
Film Maker: Free Range Studios
Annie Leonard of The Story of Stuff is back! This time, she is telling the story behind one of the most talked about solutions proposed to combat climate change: carbon trading. But is carbon trading a real solution, or just a dangerous distraction? Annie looks at the controversial issue in a head-on, matter-of-fact, and provocative way that will open your eyes and make you think twice about this supposed silver bullet.www.freerangestudios.com

---

Big River
27 min.
Film Makers: Curt Ellis, Aaron Woolf The filmmakers of KING CORN are back! Curt and Ian have returned to Iowa with a new mission: to investigate the environmental impact their acre of corn has had on the people and places downstream. In a journey that extends from the American heartland to the Gulf of Mexico, the guys trade their combine for a canoe and set out to see the big world their little acre of corn has touched.www.bigriverfilm.com

---

Intermission & Raffle
15 min.
Everyone who attends the film festival will go home with a goody bag and will have an opportunity to win a raffle drawing, thanks to the Film Festival sponsors – see below. Just fill out a short form with your contact information to participate.

---

No Impact Man
93 min.
Film Makers: Justin Schein Eco-guilty NYC liberal, Colin Beavan, decides to practice what he preaches for one year … no electricity, only local food, no garbage-making and no taxis and elevators … all this with his caffeine-addicted, TV-loving wife and young daughter.www.noimpactproject.org

---
Wednesday, October 20 at 7:00 p.m.
A Simple Question: The Story of STRAW
35 min.
Film Makers: Kevin White, David Donnenfield
Wild & Scenic Spirit of Activism Award 2010
Simple hope and inspiration can be found in the Stemple Creek Watershed of Northern California. In 1992, a fourth grade class-project began what is now a remarkable program restoring over 20 miles of habitat, galvanizing the local community, and leading to significant educational innovations.www.asimplequestion.org

---

Worse Than a Clearcut
4+20 min.
Redwood Chapter, Sierra Club The so-called "Preservation" Ranch is a proposed 19,300 acre development in the heart of the Gualala River watershed owned by Premier Pacific Vineyards (PPV). PPV plans to "preserve" their land by destroying 1,600+ acres of coastal redwood forest and converting it into vineyards.Following the 4 minute video, Friends of the Gualala River will host a 20 minute presentation and discussion.

---

Flathead Wild
23 min.
Film Makers: Trip Jennings, Andrew Maser In July 2009 the iLCP sent a Rapid Assessment Visual Expedition (RAVE) to the Flathead River Valley in British Columbia. The team of photographers, scientists, local conservation organizations, and cameramen documented the beauty and the destruction of this area, which is threatened by mountain top removal and methane drilling proposals. "It's so easy for mining companies to claim that there's nothing in the Flathead, so we used our cameras to show how much there is to be lost." This Film, Flathead Wild, produced by the Epicocity Project, follows the Flathead RAVE and explores just what it takes to be a conservation photographer. Join the adventure; experience one of the cleanest rivers water, the camera trapping, the wildlife and the breathtaking views. The photographers have 13 days to make iconic images that can be used as tools for conservation and could possibly help to tip the scales in favor of protecting this pristine wilderness. Will they do it?www.epicocity.com

---

Intermission & Raffle
15 min.
Everyone who attends the film festival will go home with a goody bag and will have an opportunity to win a raffle drawing, thanks to the Film Festival sponsors – see below. Just fill out a short form with your contact information to participate.

---

Greenhorns
20 min.
Film Makers: Severine von Tscharner Fleming This spring found young farmers as unlikely poster children of a new zeitgeist. In many communities these bright 20- and 30-somethings are contributing and leading the way into a new world of agriculture, sustainability and economics. [This film is a 20-minute, extended trailer for a pending feature film due out later in 2010.]www.thegreenhorns.net

---

Red Gold
55 min.
Film Makers: Ben Knight, Travis Rummel, Lauren Oakes The headwaters of the Kvichak and Nushagak Rivers in Bristol Bay, Alaska, are home to the two largest remaining sockeye salmon runs on the planet. And at that same spot, mining companies Northern Dynasty and Anglo American have proposed to extract what may prove to be the richest deposit of gold and copper in the world. The filmmakers spent more than two months in Bristol Bay, documenting the tension between native fishermen who oppose the dam and mine officials who say they will build a 'clean' mine that will leave the salmon's habitat untouched. This exquisite film goes beyond the conflict, offering a portrait of a unique way of life that wouldn't exist if the salmon don't return with Bristol Bay's tide. Audience Choice Award, Director's Choice Award, Telluride MountainFilm.www.redgoldfilm.com
www.savebristolbay.org

---
Sponsored by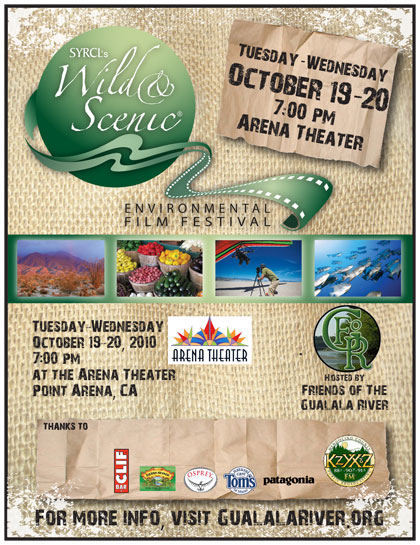 More information about the
Wild & Scenic Environmental Film Festival
www.wseff.org